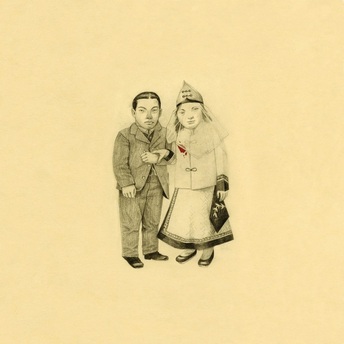 The Decemberist's are a funny placed band, as they would be considered more indie/emo than folk. For me to even put this into the SHN's album reviews will undoubtedly raise questions about what is Folk music? Without getting into that political minefield, I would generally stand by this album as being Folk because of the stories told, the tone of vocabulary woven into the lyrics and the instrumentation used throughout.
The first track and indeed the title of the album The Crane Wife, is based on an old Japanese Folk tale. The story appears in three different stages, dispersed throughout the Album. The instrumentation is beautifully delicate, with warm tones from cello and finger picking from Colin's Guitar, it serves as a sweet and simple scene setter album.
Before I decided to review/study this album for you, I should share with you my personal relationship with the album.
It was first played to me late one night, by a very dear friend. We'd had much red wine and probably other things, such is the way when you're in London. We both knew at the time that I would be moving to NZ and these were the last days we'd spend together, but somehow that didn't matter as the crackle of the vinyl and the warm filmic-styled instrumentations coloured the room. I fell in love with The Crane Wife. She represented so much more than just some stories, she was moment of transition, of discovery.
Once arriving in Auckland – I started work about a month later and had to commute via ferry. I still found myself coming back to this album as the epic percussion and intelligent transitions from one song to another combines with the smells of the sea, the sway of the ferry and the reminiscent settlement stories, it was easy imagine the voyage from Old England to New England. Pistol Fights. Pennies on the eyes. Yankee Bayonets. Aluminum. Cinnamon. Chapel Organs.
And if at the end, you want to from the lucid dream? Well what better way to wake than with Sons and Daughters, a beautiful canon (for those that appreciate an appropriate compositional technique), which finally settles the ship to land on a new world, new freedom for discovery. Simple and beautiful.
Well worth a listen if you ask me.