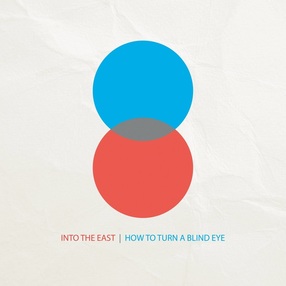 How To Turn a Blind Eye
is the sophomore album by Invercargill two piece
Into the East
. This is a folk album that has stepped over into pop territory and adopted hook after hook, multi-layered instruments, and crisp production.  The album still holds true to the folk basis of storytelling and a longing for yesteryear however it is a fresh take on the genre.
The opening track "We'll Be Gone" has a standard folk opening with a cappella lines about coast roads and the passing of time. However, the second track "Rambling On" shows this duo's pop leanings. Rambling On is bass driven, with a steady drum beat, that keeps the song moving and draws the listener into the new direction Into the East are taking on How to Turn. This is the album's stand out track and brings thoughts of  KT Tunstall's "Black Horse & the Cherry Tree".
The following tracks show the blend between the folk and the pop influences. Each song is well crafted for a wide audience, with folk influences aplenty but a bigger sound that will appeal to new listeners. "These Four Walls" returns to the sound of their 2013 debut album Fight from the Inside with a soft and restrained acoustic track. "Sand of Stars" highlights the high production level on this album with an orchestral backing giving depth to the voices and acoustic guitar.
The later tracks softly ease the album out with the track "An Open Letter to Those We Once Respected" being the stand out, with tongue in cheek lyrics and a simple guitar line. Overall the album shows growth towards a fuller and more pop friendly sound that is a perfect accompaniment to early Into the East songs. This album is a great final record for Into the East as they bring down the curtain on their duo, at least for the time being. This album certainly shows the promise and direction they could go and hopefully we'll see a reunion some time in the future. 
 
(DAVID BATCHELOR) 
How to Turn a Blind Eye is available on Into the East's bandcamp page. Go support them!