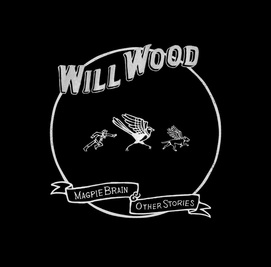 Will Wood
returns with another folk album with a definite Kiwi slant. With Auckland mentioned in the opening line of an album and Reb Fountain back on accompanying vocals, Wood's 'Magpie Brain and Other Stories' is a fantastic follow-up to 2014' 'Broken Man'.
Will's second album, once again recorded at Ben Edwards' Sitting Room recording studio in Lyttelton, opens with 'It Rains', which talks of looking out over Auckland in the rain. The whine of Tom Landon-Lane's slide guitar is soon joined by Wood's finger-picking guitar, and subtly superb bass from The Eastern's Jono Hopley. 
Long-time Eastern backing vocalist Reb Fountain returns to showcase her ability to provide stunning melodies and harmonies to Wood's deep vocals. Providing the album's title, the second song 'Magpie Brain' demonstrates Wood's fantastic lyrical phrasing, talking of meeting "one of the most beautiful girls I'd ever seen'' in a place he never wanted to be. 'Cage' channels Wood's contemporary Delaney Davidson, beginning with the crackly, dark "ahs" that Davidson is known for – an inspiration not too surprising, considering Davidson appeared on Wood's previous album. Plus, the subtle backing vocals on this track are simply fantastic.
The country slant roars through on 'Trains', with Dave Khan's violin coming into its full element. The road and touring are a strong theme in the album, with the finger-picking 'Haggerston' turning into the most rock-roaring, drum-heavy, driving guitar song on the record. 'For The Old Man' nicely rounds out the 10-track record, singing of Wood's father.
(GRETA YEOMAN)
Will Wood's Magpie Bran & Other Stories can be purchased from bandcamp here.