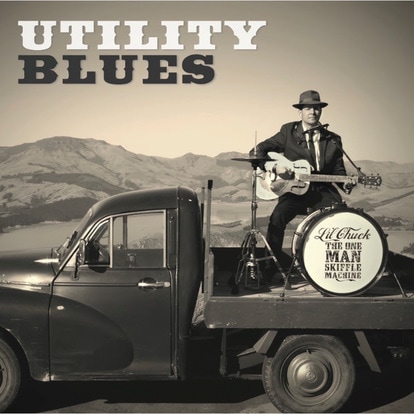 ​Utility Blues
is the second album by Christchurch based musician and one man band
Li'l Chuck The One Man Skiffle Machine
. Li'l Chuck stomps, picks, hollers and deftly wields his harmonica through twelve tracks taking influence from blues, country and swing music.
The opener 'All That Glitters (Is Not Gold)' shoots out the gate with a big blues guitar riff accompanied by a sturdy sauntering bass drum and high hat part. Late in the track Li'l Chuck also shows off as guitar and harmonica trade solos. With a slick unison line at the end it is a dazzling show of his masterful co-ordination playing four different instruments at once. Chuck's vocals are treated tastefully with reverb, grit and echo creating a massive sound for this one-man band. 
Chuck sounds at home on the Merle Travis tune 'Sixteen Tons'. Singing the plight of the indebted working man he pulls out an excellent vocal performance alongside some slick harmonica. Guitar highlights include the adept two beat country finger picking on 'Stick It In Your Pipe and Smoke It' and 'Queen of Home Baking'.
Showing his bluegrass side, Li'l Chuck gets his barn burning on with 'You Make Me Sing' and 'Honey Leave Your Porch Light On'. 'Whiskey and Ginger' is a stand out with masterful blues riffing and slide playing. A final treat is the dynamic and expressive harmonica playing on the closing track 'I Call on Jimmy Reed'.
If you enjoy old time country, blues and swing this album comes highly recommended with a cohesive and interesting range of styles performed so adeptly, all at once, all by one man.
(SAM LOVERIDGE)
​
Catch Li'l Chuck at the Wine Cellar on Sat 8th April supporting the release of this new record!