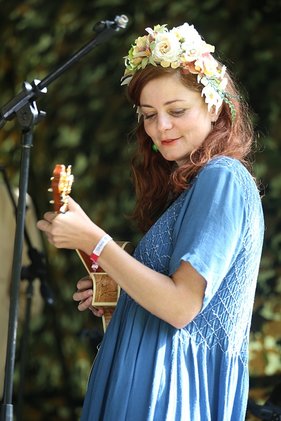 The Swan Sisters
had a bit of a break last year, as Amy Grace was living in Auckland and Amiria Grenell was living in Christchurch. This made playing together a little tricky, but they've made the most this summer of Amy moving down south. I caught them at the tale end of their tour at WOMAD as we sat in a quiet corner of the Kids Zone and enjoyed a moment of rest from all the colour and sound of the festival. 
"This summer I've been down in Christchurch, and so we decided to do a summer tour, which meant going away each weekend rather than one long journey. It works quite well because you can keep your regular life going, not that I have much of that," Amy jokes.
Amiria, "And I've got a daughter, so little stints are better. And then we've just had these festivals so we based it around those. We've got a couple more shows before Amy heads overseas." 
"I'm going to South Africa, for a month then to Asia, Cambodia/Hong Kong." We get interrupted briefly as some adoring fans see the Swans and tell them how much they love them, and Amy remarks, "I love it when people swear about folk music, they get so passionate." 
I ask them how they've been getting on with writing considering they've had this long gap of not being a regular band, "Because we both live in different places, it's hard," Amiria says. 
Amy comments, "We do have a few, like a couple of mine that become Swan songs. We have a lot of riffs, both of us are struggling with lyrics at the moment – "
Amiria interupts to say, "No we haven't even had the time to sit down, I'm not struggling with lyrics."
​
"Oh, well I am then," Amy finishes. "It's been really curious for me, songwriting recently, because I think I have been more reserved in my desires to share my thoughts with people. I'm a little bit guarded at the moment. I feel like every lyric, or even every riff, that comes up at the moment, I'm like…no…heard that before…no."
Amiria's solo album, Autumn, was a finalist for the 2016 Best Folk Album Tui, so she's certainly been busy doing her own music, even if Swan Sisters has been on hold for a wee while. "I've been writing lots of songs, but when I'm writing Swan Sisters songs it's a different thing than writing Amiria Grenell songs. I kind of focus more on an upbeat, positive vibe for us. For myself it's all my heart, realness. When we're on stage, it's such a different feeling than if I'm doing my own stuff. It's so cool and I feel so much more… happy." 
"It's been really fun collaborating with our band for WOMAD," Amy continues. "There have been lots of little things that have come up that have made me think, oh with that riff here, I think I know what I want to write about now, because that drum beat has inspired something new. I think the best thing to do when you're feeling a bit shy, creatively, or quiet, is collaborate with other people and you realise you don't have to do it all yourself. You don't have to come up with absolutely everything." 
The band was just for WOMAD, but the Swans had endless positive comments from audience members and family about how the band complemented them and created a beautiful sound, so maybe it's not the last we'll see of it! Amiria pulled in the services of her brother, who she hadn't played with in forever and knew loved WOMAD.
Amy was stoked to have the chance to have the band play, "There's also this really interesting thing where Amiria and I can just do it, we can just play as the Swan Sisters, it's an easy option. But when you get the offer to have a band, and they're like of course you can have a banjo player, that's the amazing thing about WOMAD, they just say yes!" 
Amiria, "It brings a whole new life to the song, it has all this colour and sounds like you're in a movie, at some points. Some of the points today on stage I was thinking, they're just adding this whole wall behind us, a bigger sound." 
Amy summarises WOMAD perfectly with her comment on performing with the band, "We were in this bubble of love, it was very powerful." This perfectly captures the vibe, the ethos and the emotions of WOMAD. The musicians are happy, the crew are smiling and every audience member has an amazing time. 
As for what's next for the Swan Sisters, they're just getting going, recording might be on the horizon, as Amiria says, "We're getting back into the swing of the swans." 
(FINN MCLENNAN-ELLIOTT)