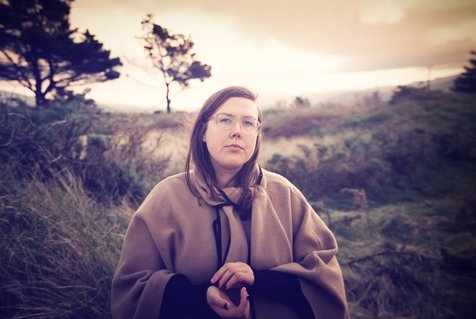 Photo cred: Ebony Lamb
Nadia Reid
has spent a lot of time in the last year travelling, touring Europe and Australia and working along at the release of her sophomore album, 
Preservation
. 
​
"Europe was awesome. It felt like a weird blur of a trip – in and then out. The shows, they weren't brutal, but there were no days off you know. Really good to build on what we'd left (last time). The world is so big and you can just keep touring, because you just realise how small NZ is.
"I had this moment when we landed, and went out to a café in Auckland, and for the first time in my life Auckland felt really small. It was this moment of realisation of how big the world is."
She's not the only folk act New Zealand has that's jetting off, taking on the world and discovering that they like us out there – Lydia Cole, Aldous Harding, Will Wood and Joseph & Maia spring to mind as those doing or about to do it!
She jokes that people keep commenting on how Preservation has come about after all this touring, even though it was recorded before her first trip over to Europe. Despite this, Nadia has found touring to be excellent for her songwriting (what I guess will make up album number 3). 
​
"I find being on tour quite good for writing as well. You're either meeting these new people, new culture, or you're stuck in a car for six hours so you have to deal with yourself. It's kind of this way for you to examine your whole life, because your whole life is drive to x place, set up, play the show, pack down, and go to sleep, get up and do it again. There's this structure, so life feels kind of safe." She's been touring with guitarist Sam Taylor, and a tour manager, despite this she comments that there is a feeling of loneliness that enters into it. 
"I like that. I feel like for Sam, it's similar for him, it gives him this chance to examine his life. For a month his life is structured. I love touring, I love it also when we're back here and it's over. But in the middle of it, it's really hard, it's not as glamorous as some people may think it looks. It's amazing to travel to these new countries, and essentially be working as well as traveling, but there's a lot of new pressures that comes from being over there. You just kind of go with it."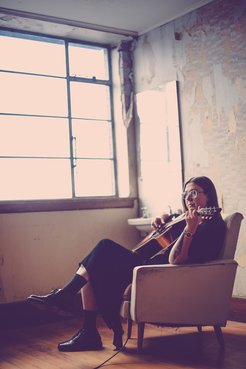 Photo cred: Ebony Lamb
Nadia took some time to do a paper in poetry at Otago University last year. "
I really wanted to do the poetry paper, out of a want and an interest in poetry, and there was a little lull before the record came out, where I had to keep doing something with my time. I was only doing one paper and I still ended up missing stuff, and unfortunately I can't really continue that at the moment, but you know, university is always going to be there." 
Like most of us, Nadia comments she's not sure how useful a degree that costs $40k is, when it might not even get her a job. 
​
First album, Listen to Formation, Look for the Signs, a finalist for the Best Folk Album Tui in 2016, feels like it's been around for much longer than two years. 
"Because the first record basically had three releases, it had a really long release cycle, and so for me I was quite tired of the record. Tired in the sense that time passes and it becomes less relevant you know. I was really ready to make the second album and I had the songs, so we made it happen and it was the perfect timing. It couldn't have happened any later or any sooner. I feel like overseas the first record is still kind of new to them. But over here it feels good to have the second one." 
Nadia feels there's been a big shift in her life between album number one and Preservation, "There was this sense of a shift of it from being a hobby to it becoming something that was potentially going to be a career. I feel like the main difference for me is a confidence, like I think I approach the songs in a really similar way, but the confidence in recording, touring and playing is now there." 
This confidence is easily visible when you see Nadia perform. Whether she's on her own on stage, or accompanied by Sam, she commands your attention and you are sucked in to her delivery, her lyrics and the beauty of the songs. 
Preservation was recorded with Ben Edwards in the Sitting Room, "We wanted to push the boundaries and not have it be only classic Nadia songs, or not the thing you feel is the easiest, the default. There are some songs in there that are totally default me, but some in there are definitely guided by Ben and we were allowed to experiment, just do weird shit, you know." 
It's a bigger sound, it's a more developed sound and it's simply stunning, Preservation is going to be one of the best albums of 2017, go and take a listen for yourself. 
Catch Nadia Reid celebrating the release of the album this Saturday 8th April at The Tuning Fork! Tickets are selling fast!
​(FINN MCLENNAN-ELLIOTT)