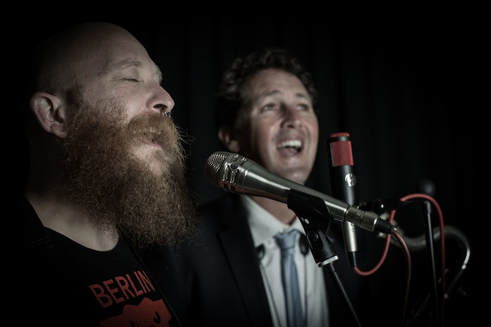 I caught up with Nick Atkinson and discovered that
Hopetoun Brown
are about to chuck us a third album ahead of their performance at WOMAD 2018!
​​"We've recorded a new record with Jol Mulholland, which we're releasing on WOMAD Friday. We brought the release date forward, so we're hustling to get it ready. Brendan Turner is working on the design again."
Brendan has been responsible for the iconic and stark imagery of Tim Stewart and Nick for both their last two albums, and some killer posters.
"Tim and I have been writing a bit separately this time. We've still been collaborating on tunes obviously, but we've been writing on our own. I've written this song that Steve Abel is singing on, and Tim has done a song with no brass on it at all, it's all synth and fresh keyboard sounds. We'll often produce each other's songs, so even if it's a Tim or Nick song, it'll be Hopetoun Brown produced but Jol been taking this on also."
Nick has been on multiple mountaineering adventures this year, with partner Lydia in the Himalayas for a month and with new partner in crime, Finn Scholes, down to the Southern Alps.
"Finn Scholes and I went on a 9-day mountaineering expedition down south. Finn insisted on his pocket trumpet, and so I took my clarinet, so we took them over high mountains in the Southern Alps."
Finn Scholes, creator and frontman for Carnivorous Plant Society, has become an integral part of the live Hopetoun Brown show, with many appearances at their gigs performing on the various instruments he plays.
​
"Finn will be performing with us at WOMAD. He'll bring his vibes, Rhodes and trumpet, shaggy haircut, tight jeans… There's a lot to love in Finn."
​Three albums in almost that many years is quite the turn around for the band, and Nick is adamant you have to keep going with a good thing.
"We can't stop. When a band is going, you got to go. That's my vibe. It won't happen forever, that's one thing you can guarantee."
The new album will stretch their sound and try new things, as they have proved before with 'Look So Good' naturally building on what they offered in debut 'Burning Fuse'.
"I think the stylistic poles are further apart that ever before. The song with Steve [Abel] is a piano ballad and Tim's synth track is at 150bpm with no horns on it at all. We got tunes that are just saxophones to the nines and Tim's got tunes that are just trumpets. We've just had some fun. I feel we're getting better as songwriters. I hope this album shows evidence of this!"
Nick has been down to WOMAD many times in the past, but is most excited about our local acts this year.
​
"I am super stoked to discover a bunch of new bands that I've never heard of, but I have to say, one thing about festivals that I think is underrated, is that you have to see the local acts. They will do the best show they've ever done. I am really excited to see Aldous Harding playing with Johnathan Pierce, Callum Passels – she's just on such a roll, killing it everywhere."