Second Hand News caught up with
Tweed
just before they released debut album
High Brow Blues.
We talked with Nancy Howie and Steff Werman about influences and their prolific songwriting.  
Howie says that the band's influences are "fairly diverse", with her interested in a lot of folk, including British folk like John Martin, Joni Mitchell and Crosby, Stills, Nash, and some "more obscure [influences], like Joan Armatrading and Ani diFranco."  
"Also growing up in Latin America, with a Latin American parent, [I listened to] a lot of calypso, and bolero, which is sort of a slow Latin American ballad. Cuban music, a lot of Dominican, that was what I grew up with."  
Devin, their percussionist, meanwhile, is a huge fan of "anyone who can sing really well – he's a huge fan of Aretha Franklin," says Howie.  
Tweed also had a strong background in musical theatre, which comes through some of the music. "All of us have a background in musical theatre. Devin acted in musical theatre growing up and I was sort of raised on it, because my mother's a huge fan," says Howie.  
Steff Werman says Devin and her "used to do a lot of stage management and lighting design for musical theatre and musicals."  
The songwriting often comes from Nancy, who'll bring an idea to practice once she's happy with it – though she will also bring "just a melody" to play with. As Werman is also Howie's partner, she says "sometimes I find it hard to give feedback on the songs because I am more familiar with them."  
"Often the music comes more naturally, so I will labour away at lyrics a lot more than I will with music," says Howie. "There's a lot of tweaking, a lot of experimentation".
It's obvious that the band are all good friends, and one thing that this has led to is prolific songwriting. "We got together as a band in 2012, and after a couple of years we had about 200 songs on the waiting list".
 
"We decided we'd pick the best of them, and treat them as a sort of project. Poor Devin and Steff had to go away studying, and they presented a short list."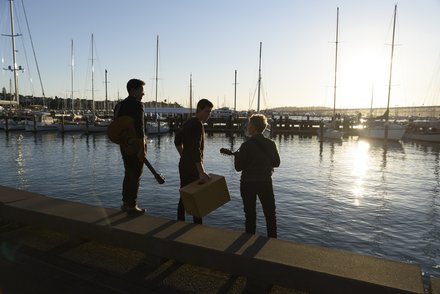 "We pared the 200 down to about 20 each".
"We found ones that fit together well in a set," says Steff.
"There were a few that were fairly solid songs but were rejected on the basis that they were written too long ago or they didn't fit with the theme of everything else," continues Nancy.
"Sometimes they were good songs, but there wasn't a lot of diversity so we shelved those in favour of new ones, or those that were a bit more interesting," says Steff.
"Like 'Evacuee', was one that we'd just written a month or so before. It was the last one that was picked up for the album, workshopped, and we were working on another song we were going to put on the album, and it wasn't working for me, and I said 'what about that other one, Nancy – play that for Devin', and it was a good fit."
It was quite a long process between writing the songs and recording them, and Steff said it was a challenge "keeping up the material we had," while adding new songs as they were still gigging.
From this long list of songs, the album has some that are just months old, such as 'Lost', 'Hand-picked,' 'Fading' and 'Landfall', to some that were years old like 'Many People'. Many of the songs had back stories, such as 'Almost in Mexico,' where the title and some of the lyrics in the song had to change because they were obviously about someone's specific situation. The name of the album, meanwhile, is from a line in 'Evacuee', "people with their high-brow blues look down on me as a vagrant".
"The story of that song was where [you're] branching out, going on a journey, and being in that space and you are travelling. And you look back at the rest of the world around you, and you kind of see everyone in their normal, daily grind rhythm, and feeling that sense of being a bit of an outsider, and stepping away from that, doing something a bit different," says Steff.
One way of putting high-brow blues is the malaise you feel living in a first-world country, in that "I have it so good, but it's not good enough," says Howie. Steff says that current world events have been good songwriting material.
"Nancy has been writing a lot, following the election of Trump. Topical songs just keep coming," says Steff. "Protest and solidarity, peaceful resistance, calls for equality. The songs are quite relevant to the times, I think," says Steff.
And the new fit quite well with songs on the album, such as 'Fading' and 'Lost', which are about inequality, says Howie.
They will be playing some of these, as well as tracks from 
High-Brow Blues, 
on their current tour. You can check the dates on our gig guide or on their 
Facebook page
. They're playing at Golden Dawn tonight (Wednesday) and Portland Public House (Thursday). Check out the poster below. And! Even better, go listen to the stunning debut album below! 
(FRASER BROWNE) 
​