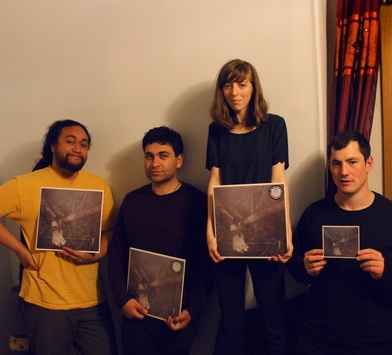 Absolutely delightful. Right from when they walked on stage it was clear this was going to be a wonderful evening.
Anthonie Tonnon
had done a fantastic job of warming us up, with hilarious arm waving tasks and instructions on how to interact with him and our neighbours. 
Singer Brooke began the show with her trademark tone, apologising for interrupting any conversations or ruining the best bit of a story, but we were all ready to hear
French For Rabbits
.
The Wine Cellar
was an inspired choice of venue, nestled amongst the couches and seats the sad, haunting and beautiful melodies had every listener enthralled. She had been having a forgetful week and consequently changed the set list numerous times, having accidently omitted the title track to their recent album – the entire purpose of the gig being an album release party. It was a relief they remembered to play 
Spirits,
the song, as it quickly proved that this was one of the best gigs I've seen all year. 
Seemingly uncomplicated, yet perfectly situated guitar work from John accompanied Brooke's vocals and alternating guitar and keys. And the rhythm section, well, what to say about them. In a venue such as the Wine Cellar drums are a tricky beast to master. Such a small room requires the drummer to be a master of his trade to reach the right dynamics and without a doubt Hikurangi did this, the rolling mallets and brushes provided the perfect rhythmic back drop to the floating melodies. It is not easy to accompany an acoustic guitar on an electric bass, and French For Rabbits bassist Ben Wood was up to the job. He provided just enough bass to give depth and grunt to the songs without adding unnecessary clutter and noise, and yet every now and again ripped out a sweet lick. 
Much love for this band and I look forward to them next gracing the stage in Auckland. 
Check them out on Facebook: French For Rabbits 
Their latest video, from Spirits, is the song Goat. Enjoy.