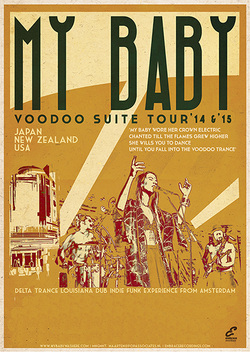 Netherlands based band
MY BABY
are embarking on an extensive New Zealand tour this summer. The trio is compirsed by Daniel Dafreez, Joost van Dyke and Cato van Dyke. They are a thrilling live act that infuse folk, blues and funk and are inviting the whole country to celebrate the release of their new album,
Loves Voodoo!
They have 28 dates set and can be found around the entire country so wherever you are this summer season you have no excuse to miss them! 
Aucklanders will notice the Wine Cellar on the 16th January nestled among lovely out of town spots. 
My Baby New Zealand Tour

Saturday 27th December, Wunderbar, Lyttleton
Sunday 28th December, Churchills, Christchurch
Tuesday 30th December, Twisted Frequency Festival, Canaan Downs
Wednesday 31st December, Marahau Park New Year's Festival
Thursday 1st January, Toad Hall, Motueka
Friday 2nd January, Nelson Jazz and Blues Festival
Sunday 4th January, The Mussel Inn, Onekaka
Thursday 8th January, Riverside Bar, Whanganui
Friday 9th January, Butlers Reef, New Plymouth
Saturday 10th January, The Yot Club, Raglan
Sunday 11th January, TBA, Surprise Gig
Monday 12th January, On Fire Cafe, Whitianga
Wednesday 14th January, Sawmill Cafe, Leigh
Friday 16th January, Wine Cellar, Auckland
Monday 19th January, Schnappa Rock, Tutukaka
Thursday 22nd January, Cabana, Napier
Friday 23rd January, King Street Live, Masterton
Saturday 24th January, The Laundry, Wellington
Sunday 25th January, Le Cafe, Picton
Friday 30th January, Golden Bear, Mapua
Sunday 1st February, Luminate Festival, Takaka