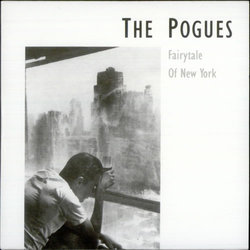 Here at Second Hand News we believe, or we know, that Maria Carey and Justin Bieber flirting with each other
around a shopping mall
dressed as 'festive' simulacrums of Santa is enough to make anyone throw up tinsel. So before you give in to whatever the over capitalized pop hit may be this year, why not roast a couple of these tunes on your open fire?
Wouldn't be a party without the Pogues
I'm throwing this out there as a freebie, because Fairytale of New York goes without saying. If you don't have this on your Christmas playlist, well, don't invite us round for Christmas.
Adam's Apple
A song to take you way back, supposedly the lyrics were found in the possession of a travelling minstrel around the 14th century. This medieval little number still packs a punch, if you can find the right cover. The internet is riddled with Britten's and other composers choral arrangements, as it's often sung by choirs at Christmas Mass, but there are one or two interesting Folk interpretations of this piece that are worth knowing exist.
First up is the Medieval Baebes version, which I particularly love. It's kept an authentic arrangement and the chanting will have you dancing round your campfire in no time.
Meanwhile, Faun, the German Folk group have made a much more pleasant arrangement of this piece. So I suppose it depends on what kind of mood you're into this Christmas.
Silent Night, Damien Rice
Along the same thread of mashing up the melody with the lyrics, let's not forget the beautiful Silent Night as part of Damien Rice's 'O' album, found as a secret track at the end of Eskimo, and can also be located here. Even though the meaning of the song is (ironically) about a break up, the a cappella arrangement and the delicate vocals of Lisa Hannigan keep it just as beautiful as any SATB piece.
Christmas Ahoy!

Now if you're after that Pirate-esque, fairly jolly jolly roger music this season I recommend filling your boots with the 
12 piece band Bellowhead
. 
And if you happen to drink whiskey as your choice this year, you'll may want to toast a glass to their version of this song
Pants!
If Christmas for you usually means new socks and smellies then you'll appreciate this joke-folk style Christmas song. Sung by the hilarious band Folk On.
Toast a new year
When all that silliness is over what better way to welcome in the new year with this Carol by the Unthanks. It even references Auld Lang Syne, in case you feel you're missing out.
Based on a New Years Eve tradition (still running) in Allendale, Northumberland, where the men of the village dress in costumes and carry a lit barrel of tar, paraffin and other flammable things, on their head in procession around the village, until just before Midnight. When they come back and toss the lit barrel on the bonfire, creating spectacular illuminations. Yes that is quite different to fireworks.
I question anyone's spirit who doesn't get into this beautiful festival song, with it's yummy harmonies. 
So whatever your plans are – whether you're planning a break up, a pirate barrel-rolling pagan pub party or just a plain old pants party, get inspired this season. 
Because no matter what the occasion, it's all still better than Justin Bieber.