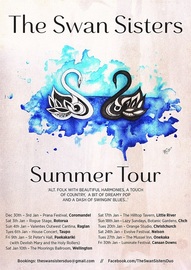 I've had this E.P. stuck in my heap for days now. I didn't know I was missing it until I saw
The Swan Sisters
live at Prana Festival over New Year's Eve. They are our very own answer to the beautiful trio The Staves from the UK. 
Rivers
 is their first release, hurriedly recorded and released in time for their summer tour, although it gives off no hint that it was barely made in time. It is happy, light and a perfect soundtrack to summer. All the songs were written by the two wonderful woman who make up this new duo, both accomplished musicians in their own right –
Amiria Grenell 
and
Amy Grace
. 
The very catchy and short tune Donna Darling features a beautiful trumpet solo from Barrett Hocking and I've been singing it to myself since I heard it. Both Amy and Amiria play guitar, ukulele and sing perfectly crafted harmonies. I've never been a huge fan of songs sung over strumming ukuleles but somehow they manage to make me love this, especially in
Chase the Evening
. 
At only five songs, this is a small taste into an exciting new project for these two artists. H
aving seen them live I know they play
Mexico
 by The Staves and so I can't speak of their live show highly enough. 
This is a must have E.P. It appears to be uncertain when they will next be playing together in Auckland but I will be monitoring this carefully as I will be the first to get tickets.