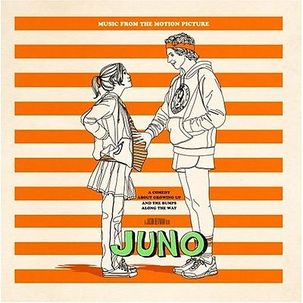 As February is now upon us, no line could better encapsulate Valentine's Day than Barry Louis Polisar's "If I was a flower growing wild and free, all I'd want is you to be my sweet honeybee." These words in their sweet, yet captivating trill, open the soundtrack to that hip yet uncannily nostalgic film that the world fell in love with in 2007:
Juno.
If we listen to the soundtrack by itself, the assemblage of songs is a jumble. It combines soothing, melodic tunes composed by Kimya Dawson of The Moldy Peaches, with what I like to call 60s 'jingle janglers' such as The Kink's "A Well Respected Man," as well as Sonic Youth's dark rendition of "Superstar." At a glance, these songs are like mismatched puzzle pieces that do not appear to fit together at all. But what I love about this album is how it embodies the spirit of Juno masterfully, and when we are reminded of the film while listening to these songs, both film and music work in tandem and the entire listening experience feels like a comforting and reassuring pat on the back.
Just like the film, the songs capture the essence of young love and childhood naivety, yet at the same time express nostalgia for the past as one is compelled to grow up almost too quickly. Kimya Dawson's tunes evoke the latter element most closely as they paint a picture of childhood activity and the sense of never wanting to grow old, with songs such as "Tire Swing," and "So Nice So Smart." Belle & Sebastian's "Piazza, New York Catcher" and "Expectations" converse with the listener about teenage isolation and the experience of feeling lost and unsure of one's identity, while Barry Louis Polisar's "All I Want Is You," The Velvet Underground's "I'm Sticking With You," and the film's closing song "Anyone Else But You," emit those cute and kooky vibes of teen love and bashful romance that make Juno just so darn enjoyable to watch.
So if you're after a film for this Valentine's Day, Juno might just be the perfect pick as the ditties throughout will leave you feeling dizzyingly weak at the knees and in need of someone to sway and whistle with. 
(EMILY HOLLAND)