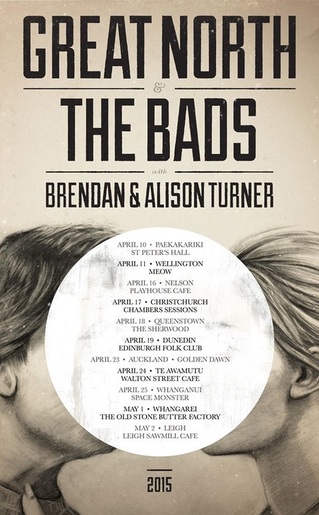 Great North, The Bads and Brendan & Alison Turner brought their nationwide tour back to Auckland on Thursday for a gig at the Golden Dawn in Ponsonby. Performing everywhere, including many places for the first time, in some amazing little taverns and halls around the country they were ready to be back in the big smoke. Among some of the misfortunes were a tour van that broke down and a finger of Brendan's nearly breaking, but Thursday night had no hint of this as all three acts showed why they are mainstays in the folk world. 
Brendan & Alison opened with their version of 'Long Black Veil', a slightly sombre song but perhaps fitting their current mood. They quickly grew into a foot stomping, high energy set with deliciously tight harmonies. They made a sneak appearance at the Rogue Folk Festival in late March and are taking a night off from this tour to play at the Red Lounge Sessions – an evening of folk in Mt Maunganui this Thursday. Watch this space as these two will be around a lot more as the year rolls out. 
The Bads are Dianne Swann and Brett Adams and if you haven't seen their brand of rocking alt-country then you need to come out from under that rock and catch their next gig (see below for that information). Brett Adams is regularly referred to as one of New Zealand's best guitarists and this was in evidence as he ripped out songs with both the Bads and as part of the Great North 'tour band'. They quickly made it clear that the Golden Dawn was a venue they were suited to. It was an odd choice of venue for Great North, still to come, as many in the audience were there more to drink than listen and some of the quieter songs were lost in the atmosphere, but the Bads had a foolproof plan – play loud and play hard. The addition of Brendan Turner on his upright bass and Matthew Hutching on pedal steel created the perfect sound, and reminded many why The Bads are one of the must see bands in Auckland. 
Great North invited these other two couples to take on the country and create a perfect evening of entertainment. An inspired choice of musicians to join them. Thursday night ended with a selection of songs off both Tui award winning Great North albums, Halves and Up in Smoke, as well as many of their newest songs. Hayden & Rachel Donnell are the band, although they surround themselves with an exceptionally talented band on most occasions. In this case they took Brett from the Bads, Brendan and Matthew to create the layered folk sound that has won them many accolades. Among the highlights was a personal favourite in 'Casey Jones' from Up in Smoke. It's an exciting time to be a Great North fan as they perform and workshop their newest songs with various arrangements. First to mind of these is the beautiful 'Hallelujah for the Losers' (or whatever title it eventually lands on), always introduced with Hayden's self-deprecating and slightly depressing out-take on life. Despite these introductions there's something uplifting and hopeful in his writing and I always come away from Great North gigs feeling refreshed and enthusiastic about life. All the band members were invited on stage for the last song 'Better Days', another new offering from Great North, before an unplanned encore was insisted upon. 
The tour ends on May 2nd at Leigh Sawmill, a gig well worth the drive. You can get tickets here.