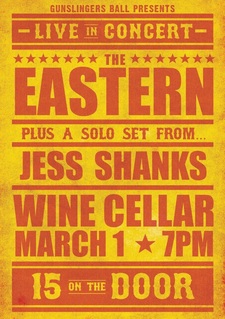 I spent my Sunday night doing exactly what I've come to love doing: sitting in the Wine Cellar. This time I was listening to arguably my favourite New Zealand band.
The Eastern
had had a long weekend, especially after spending all of Sunday afternoon in the blazing sun at Grey Lynn park, so they were sitting atop stools telling stories. It was one of the best concerts I've been to in years. 
Taking turns on songs we were treated to stripped back, "folk club" style renditions from the big man Adam McGrath, his longtime band mate Jess Shanks and the always humble Reb Fountain. The performance was honest, each song had a ten minute story to it, which McGrath did his best to tell. There were numerous moments where laughter threatened to derail a song and, as is to be expected at an Eastern gig, McGrath interrupted his own songs to say whatever was on his mind.
Reb Fountain debuted (or at least to me) a song she's spent months writing after the loss of band-mate and longtime friend Sam Prebble. The song, named
The Rogue Stage,
 spoke beautifully of life on the road and how Reb, Adam, Jess and the many others that make up the Eastern Family have spent their lives. 
Each song was supported by Alice Wiliams, the Eastern's very own fiddle player, who navigates songs she has played hundreds of times with songs she's never played and you could never tell the difference. The bonds between these musicians are easy to see and the enjoyment they get from playing with each other is heartwarming. 
If you've never seen
the Eastern
in their full stomping glory, then keep an eye out for them, although they are going on a well deserved break, they will be back in September! You can be certain I will know what they're up to. 
McGrath promises he'll be back sooner, and Jess Shanks and Reb Fountain are supporting the Ezza Rose Band in the coming month, including a performance at the Wine Cellar on March 12. I'll be getting more information about that up soon! 
Once again, thank you for an amazing concert, as always.