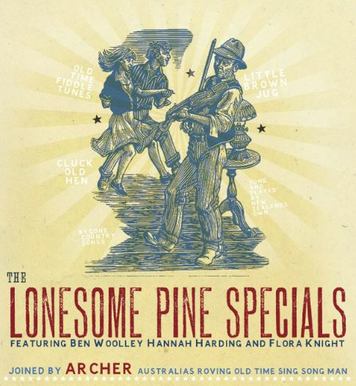 Those that sat at
Freida Margolis
last night would have felt they went back in time. 
Old Timey man Archer, from somewhere in Australia, opened up the evening, singing about being his own grandpa. He sung songs that sounded like they'd be more at home in a tavern many decades ago. 
This was followed by numerous variations of the Lonesome Pine Specials, who are Hannah Harding (Aldous Harding), Flora Knight (The Eastern), and Ben Wooley (Marlon Williams). All accomplished musicians in their own right they played songs they had learnt, heard and grown up on. They are all about to leave our shores and start new careers and this was their farewell tour (to each other). 
One microphone sat between the three of them, amplifying one fiddle, one guitar and three voices. They've been on the road for a couple of weeks now and are facing 15 shows in a row in the next few weeks. This is the tour of all tours, and it's only fitting as they play small towns, halls and sing their songs to people who grew up with this music. 
I can't sing Freida's praise enough as a spot for a Sunday night session. It was overflowing with people and while this isn't your country hoedown dance type music, there are plenty of songs to sing along to, some offensive and some delightful. 
Check this link for where you can see them on the tour, they are coming and going all over, and if you weren't already tempted to come to the Rogue Folk Festival, this may force you to make the decision. 
For those too lazy to click away, here's the next week of shows: 
24th – Whangateau Hall – Whangateau
25th – Totara North Hall – Totara North
26th – Waimamaku – Morells Cafe
27th – Kauaeranga Hall – Kauaeranga Valley
28th – The Rogue Stage Folk Festival – Rotorua