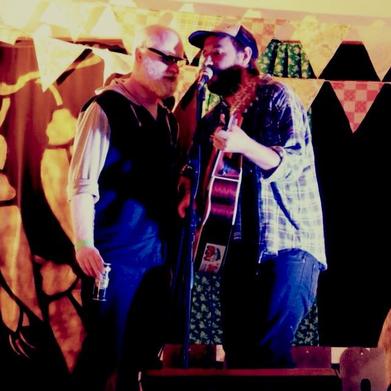 Touring with
Kyle G Taylor
I woke up on a couch in Newtown after too many laughs on a casual Wednesday, the day I arrived in Wellington. The flatmates had left the warehouse and in all honesty I had no idea where Kyle was ether.
We were due to start a four date tour with him that night and I was pretty sure I would find him sometime today. Probably.
I hadn't felt apprehensive until I walked through the door, realising I barely even knew what he looked like. But I soon found him in the farthest corner from it with two characters looming around.
The owner asked…
"You don't play Jesus lovin music do ya?"
Kyle answered in a dignified way but it took a lot of effort for me not to laugh out loud. Something told me he wasn't a super religious type.
The nights line up included Amiria Grennell, myself and Kyle so this felt like a song exchange. I have next to nothing online and I hadn't checked out his tunes like I probably should have. But I liked him the moment he began. He played his set with enthusiasm and continually hounded the crowed to get involved. His liveliness was infections and his songs were catchy, and somehow he made that room feel much smaller then it really was
That night and during the morning I began to get to know Kyle in earnest. He has a calm demeanor and seems somehow to be slightly aloof at all times. A kind guy with the ability to talk with anyone comfortably and an enthusiasm that drove things along almost all on his own.
The next show was a house party hosted in Napier by a young couple in their home. The rabble came together over food and drink, and slowly they warmed to me and were reunited with Kyle. Our hosts were amazing and seemed to have endless kindness to share with us.
Saturday lead us to a rustic valley about 30 or 40 minutes out of Rotorua. The Rouge Stage Festival. This eclectic and magic combination of fabulous music and vibrant characters was hosted deep in the hills out of town. You would walk around at night entirely uninhibited by city lights and sounds. The music would carry softly through the entire camp and conversation was lighthearted and intense at the same time. Bands like The Lonesome Pine Special, Great North or Bernie Griffen and one of his ensembles would be steadily rocking the small hall. I hope this festival continues, and I want to be more of a part of it.
I think that will be the thing I will remember the most about that trip, too many smiles. Well over a hundred I think, all beautiful people who showed us that side of themselves. Makes us pretty lucky to see that, Kyle is a traveling sort so I hope next time the tour can be more fun and can be more elaborate so we can see more of the country together. You need to laugh as much as we did in that week at least once in your lifetime.
(CHRIS DENT AKA ALBI)