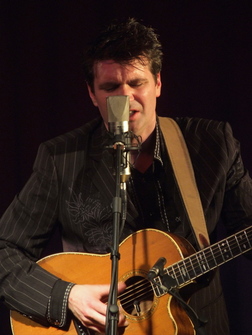 As the first notes were hammered out of Canadian Joel Fafard's resonator guitar at the bunker I was already grooving in my seat. Serving up well known blues standards alongside originals with an energetic stomp and expert slide work with a side of sly witted storytelling to boot.
Opening with 'Sitting On Top of the World', Joel's vocal approach stood out straight away, raw textured and a little breathy whilst still hard hitting. He let the tone of his voice carry the songs, staying true to the simple melodies of traditional blues, this execution was held in his expression. His vocal tone also evoked elements of
Alvin Youngblood Hart
, with similar intensity and rhythmic approach but a little tighter and grittier.
The guitar work was also a great highlight, with such precise slide work and rhythmic driving finger picking. Fafard's finger picking was particularly showcased in the unexpected but great song choice of 1952 Vincent Black Lightning by Richard Thompson.
Making his 4th visit to New Zealand for this tour there is a good chance he'll be back again, and if so, he is definitely a performance worth checking out. His albums are available on Spotify for the streaming inclined, or can be found
on his site
to purchase for the physically minded. They are a great listen with more instrumentation added to his driving raw solo sound.
(SAM LOVERIDGE)