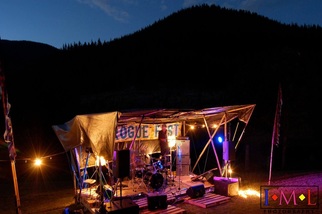 I woke up to mist, fog, and droplets covering my tent. All around me was the sound of birds and folk musicians going about their morning rituals. Bernie Griffen was practicing in his room, there was raw food goodness to be enjoyed and a communal kitchen of toast to participate in. No one was relying on cellphone reception, or the internet.
David Merritt
was in attendance with his perfectly worded and hilariously themed poems, and people sat while they ate and read a poem or talked to new friends. 
Friday night had offered up a wide array of local Rotorua musicians, performing to those who knew to come early. They were treated to some exciting up and comers and some solid mainstays of the Rotorua circuit. One main conversation thread on Friday night was the universal feeling of relief to have survived the long dirt road and made it to camp. This was the worst road I've ever driven on, with more holes than flat surface, but at the end of it was a delightful little camp ground and valley. A bittern took off on Saturday morning while I sat for breakfast, a bird almost no one has seen these days, and many more would not have even heard of. 
A makeshift stage was erected at the old school camp, made from pallets, bamboo and tarpaulin. The weather did result in a decision to move indoors, with a team helping to create a cozy space in the hall that looked for all the world as if it had always been intended to be held there. There's something glorious about a festival in it's early years, with everyone mucking in and helping on the day and a real family vibe to the music. Everyone is relaxed and wants to get to know the people who have come to see them play. Although, the Rogue Festival has the feel of something that won't change with time, it will always be down to earth and welcoming. Here's where I say a massive thank you to Karin Vincent, the brains behind the Rogue Stage and the entire festival, and her team who made the entire festival happen. What Karin has created in Rotorua is amazing and it is wonderful to see it become a main stop on the touring circuit in New Zealand, and for good reason. 
Now, the vibe and atmosphere was set, would the music live up to it? Of course! 
The afternoon started with duo from Hamilton, Looking for Alaska, who were perhaps the least known of the lineup but I was quickly hearing all the right noises from the crowd as they got into their set. An early set from Eyreton Hall was a treat for me, as Featherstitch is one of my favourite albums to be released in the last year. Then the festival moved into an afternoon of soloists ranging from the beautiful melodies of Albi to tales of his ex-girlfriends from Callum Gentleman and intricate guitar work from Zvi. Then were the two Australians, Hugh McGinlay and Kyle Taylor. Hugh was over from Melbourne for a short tour and was the kindest songwriter I've met from over the ditch, his latest album Bliss is a treat and I hope he can take time away from his day job and children to come sing for us again. Kyle is the loose cannon of touring men. Having traveled up from Wellington with Albi I will save those tales for Albi's tour diary that will be posted here later in the week. 

After a short break the bands kicked in. Sonic Delusion opened it up with high energy, music that got the crowd dancing and engaging. Bernie Griffen & Kirsten Warner invited everyone's favourite bassist Brendan Turner to play with them, and we got a preview of what was to come when Flora Knight played fiddle on some tunes. The hall was packed in with everyone at the festival by this point, all sitting in silence listening to our old country rocker do his thing. There was a moment where Bernie erupted with laughter at his own error and the entire hall sounded with cheers and laughs. These moments are what make a festival memorable for everyone who attended.
I've already spoken highly of the Lonesome Pine Specials (Flora Knight of the Eastern, Hannah Harding and Ben Woolley). Their old time, Carter Family-esque, performance has traveled the country for the last month bringing joy and many laughs to all who hear it. Add Archer to that mix, who writes new songs that sound like old songs, and you're in for a treat. 
Great North were the final act, Hayden and Rachel Donnell joined by Brendan Turner on bass and Matt Hutching on pedal steel. Playing songs mostly of their Tui award winning album Up In Smoke, they were the perfect end to a festival of sublime folk music. Hayden had the last word, singing the song he wrote for the late Sam Prebble, a beautiful tribute to a talented and missed musician. 
Actual drops of rain woke me on Sunday morning, french toast was being cooked, tents were being packed away. A few last songs were played and jammed before musicians and audience members alike went their separate ways, down the awful bumpy road. New friends were made, new songs were heard, poems were read and, I can't imagine anyone who won't be returning next year for the THIRD Rogue Folk Festival. 
(FINN MCLENNAN-ELLIOTT)