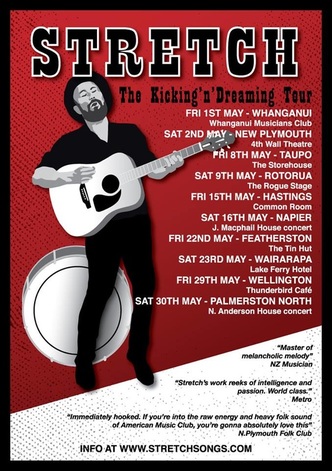 While he doesn't have a stop in Auckland on this tour, we're still pointing this one out! Stretch is one of those faces everyone in the folk / alt country scene knows. He's at everything, supporting other musicians, while blasting out his own songs with band, The Bootlegs, but this time
he takes on the North Island
, alone, and there's no one more deserving of our attendance. 
Alt-country serenading stomper, "Stretch", is hauling his acoustic guitar, harmonica and kick drum across the North Island for a month of intense and intimate shows throughout May. An unforgettable performer, Stretch will be whipping up a boot stomping sound while weaving his truly soulful voice through effortless melodies. 
Playing originals that feel like classics from your own lost mix tape, and taking you through the songs, influences and artists that sparked his own songwriting, every night is brimming with its own magic. Spanning raw hearted ballads to roof raising choruses, this music is a journey for your own soul. 
From an upbringing in rural New Zealand listening to 45's on a jukebox at the pub he was too young to be in, to years on roads less travelled, Stretch has been on a life long search to find out where the hell he belongs. With tales of sweet-talking his way out of being stabbed in Glasgow, or being immortalised in song by Joe Strummer, he brings the audience into his own freewheeling world.


Fri 1st May – Whanganui – Whanganui Musicians Club
Sat 2nd May – New Plymouth – 4th Wall Theatre
Fri 8th May – Taupo – The Storehouse
Sat 9th May – Rotorua – The Rogue Stage
Fri 15th May – Hastings – The Common Room
Sat 16th May – Napier – J. Macphail House Concert
Fri 22nd May – Featherston – The Tin Hut
Sat 23rd May – Wairarapa – Lake Ferry Hotel
Fri 29th May – Wellington – Thunderbird Cafe
Sat 30th May – Palmerston North – N. Anderson House Concert