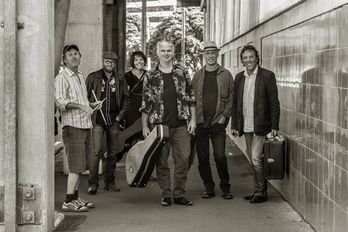 I had a chat with Rob Joass while he made his way up from Wellington to play with the Troubadours at the Katikati Folk Club tonight. He discussed how the Troubadours have come about out of the crew of musicians he got to perform with him and that they are now sometimes an eight piece. Made up of musicians from numerous bands around the Wellington region they've made a name for themselves as a hard hitting folk band, ranging from smaller ensembles to a rocky large band. This all suits Rob – who has long had Bruce Springsteen as an inspiration and loves bands like Fleetwood Mac who have numerous songwriters taking the lead in different portions of a set. 
The ability to switch style, tone and technique between songwriters in the middle of sets is something which allows a band to hold an audience's interest for long periods of time. With the talented musicians who make up the Troubadours, including Buck Croydon on pedal steel, Kim Boddington, and Dusty Burnell (of the Federal String Band), it is sure to be a rocking, loud and high energy gig. 
The Hard Core Troubadours perform tomorrow night in Whangarei at the Butter Factory supporting Tami Nielsen. 
They're then doing their own set at the Bunker in Devonport on Sunday night, from 8pm. Tickets will be $15 on the door, with all the usual Devonport Folk Club goodies at the half time break. 
(FINN)