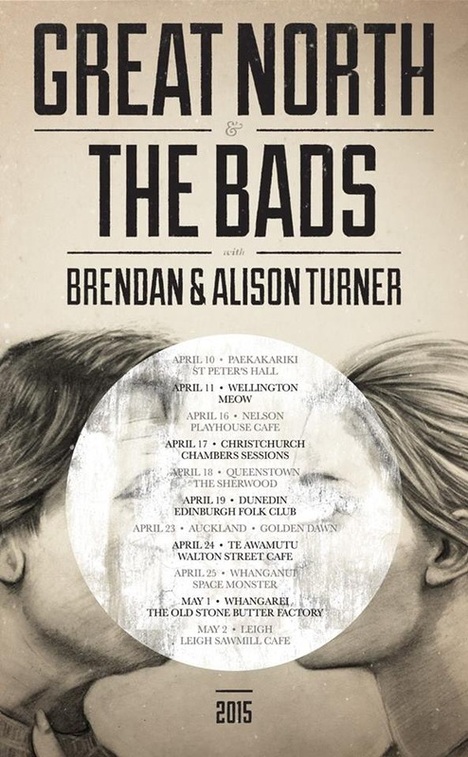 Great North
are touring with their friends
The Bads
and Brendan and Alison Turner, as they work tirelessly to exploit the marketing opportunities arising from their second Tui award for Best Folk Album. 
At 11 dates connecting Whangarei to Dunedin, this is the band's biggest tour yet: a fact that reveals both their newfound work ethic and sordid history of laziness. For this tour, the romantic front couples of The Bads and Great North will be accompanied by a house band featuring New Zealand's ultimate musical savant-for-hire Dave Khan, doe-eyed pedal steelist Matthew Hutching and dynamo double bass powerhouse Brendan Turner. 
Are you from Queenstown? Whanganui? Whangarei? Come to the first ever Great North shows in your town. Anywhere else? Still come along, even though we've probably been to your home before, leaving you with nothing but the taste of sawdust and red wine on your tongue; footnotes of a good time, dissipating fast into the cold air of a Sunday morning.
This is a must see tour, full of spectacular musicians, wonderful songs and a support band full of masters. Tour dates below the line.