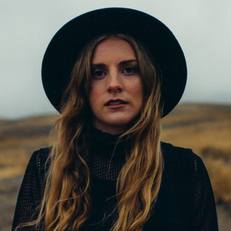 I had the pleasure of talking with Holly Arrowsmith a few weeks back and our writer Fraser will be reviewing her debut album within the next week.
For The Weary Traveller is released today!
 You can find the album on bandcamp, linked below! Take a listen! 
It is a beautiful album, full of lyrics that bring the natural environment of Arrowtown to you wherever you are listening. 
On top of the excitement of her album release, Holly has announced an exciting album celebration gig: 
Vector Arena presents Holly Arrowsmith in celebration of her debut album For The Weary Traveller, with special guests Skyscraper Stan and Tom Cunliffe at the Great South Pacific Tuning Fork, Saturday 5 September 2015.

Holly Arrowsmith is the new name in folk worth keeping your eye on. This South Island songstress has been turning heads all over New Zealand, with her acoustically driven stirring sound, poetic, thought provoking lyrics, and distinctively haunting voice. Born in the desert city of Santa Fe, New Mexico, Arrowsmith's nostalgic style echoes Americana-Folk legends, Bob Dylan and Joni Mitchell. 

Arrowsmtih's debut album is a collection of unique, beautifully crafted songs with tastefully restrained instrumentation. For The Weary Traveller was a title aptly chosen after Arrowsmith and her husband lived in a van for an entire summer, travelling around the country, taking in NZ's beauty and meeting many colourful people – plenty of inspirational fodder for songs on the album.
Special guest for this show is Melbourne based, rock 'n' roll troubadour Skyscraper Stan. Stumble into the world according to Auckland born Skyscraper Stan – a hazy, sweat-soaked dream of sunburnt country towns, dirty inner-city intersections and hot, muggy bedrooms. Skyscraper Stan's keenly observant lyricism has garnered him a reputation as an exciting songwriter-to-watch. A must-listen for fans of Nick Cave, Timber Timbre, Father John Misty, Old Crow Medicine Show and M. Ward.
Also on the bill, local storyman Tom Cunliffe, a favourite of ours here at Second Hand News who recently spent some time recording his debut album! We're very excited about that! 
(FINN)