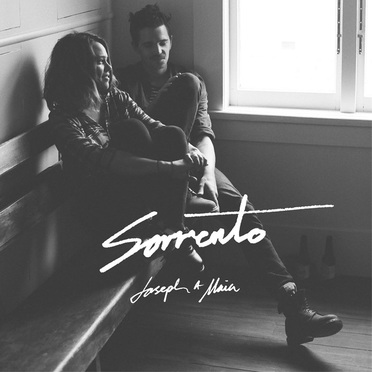 There's something footloose but not quite fancy free aboutJoseph & Maia's new record Sorrento. 
Between recording their debut EP and this 7-track record, Joseph & Maia cut ties with their label – and they got married. Both these things underpin an album that has an aura of freedom and adventure to it. 
But it is nuanced too, with a touch of world-weariness – its lyrics hint at rejection, taking risks, ennui and a desire to escape from routine.

Cutting ties and heading out on an adventure is a theme that runs strongly through the songs – the opening drumbeat of 'Sorrento' puts you straight on the train tracks out of town, while in 'On My Way' you can almost smell the Tennessee bourbon.
The album's themes make sense with the announcement that Joseph & Maia are on their way outta town, heading for Nashville, Tennessee, with a long tour of the UK and Europe in between.
With more of an alt-country feel than its predecessor, the folk-pop Roll Up Your Sleeves, the record has a sound that, I think, is more natural for the duo. 'Will I ever' begins with Joseph Thompson showing off his smoothest vocals, sounding distinctly Ryan Adams (in a very good way): "The harder I try, the harder it is to let go", he sings with Maia in the chorus. It wouldn't sound out of place next to 'Sweet Carolina'.
"I know the right way and the wrong way", they croon in the Dylanesque 'I know', which addresses the tension between choosing what you know is right and perhaps what you should do instead.
Taking lead vocals on 'Somebody new', Maia Potier (now Thompson) also delivers her lead parts with confidence and swagger.
'Sleep', a sweet and subtle ballad with a real duo feel, is a good counterpart to the band songs – a surprise standout with its beautiful simplicity.
The record benefits from some great session musicians – Brent Harris on drums (Cut Off Your Hands), Matt Short on bass (Sola Rosa), Buck Croydon on pedal steel guitar, Jono Knapp and Si Moore (Streets of Laredo) on electric, and producer Nic Manders on piano – who also does a stellar job behind the desk. 
But the songwriting is probably still the strongest aspect to Sorrento – the duo really know how to write catchy tunes that complement their upbeat and cutesy harmonies.
 
Given the lyrical themes and feel to the record, it's one that deserves a few good listens on your turntable before you decide if it's your thing or not. To me, it's certainly a grower and one that deserves its place on your playlist – especially if you're heading out on an adventure. And shouldn't we all do that sometimes? 
(FRASER BROWNE)