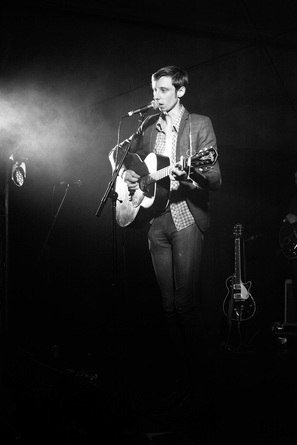 He is one of
Australia's tallest rock'n'roll Americana troubadours
, and he's at home in the back of a station wagon, under a bridge in the south of the United States or in some small town in Australia. He's known as
Skyscraper Stan
, and he grew up in our small town. I caught up with Stan during one of his rare weeks off while he had a beer on a park bench.
"I've been touring completely solo for the last few months, I've covered a lot of ground doing it solo. I did the whole east coast, Perth and Darwin. Darwin's a pretty interesting place. One of the gigs I played was in this small satellite city out of Darwin, called Palmerston, it sprang up in this ten year period, to service an army base. It's all miners and army dudes on leave in the pub, and I'm playing to these guys and they're heckling, one of them is threatening to stab me. It's dark, putting them all in a pub, in a town where there's six to one guy to girl ratio. It does actually feel like the Wild West."
"I started the tour three months ago. I was based in Sydney and just doing weekend trips. Three weeks ago I hit the road full time and now I'm back in Sydney getting ready to come on down to NZ." Stan's only been back once since he left in 2009, and that was earlier this year to play with Tami Nielson at the Tuning Fork. "I had come back for important family events for a few days but that was the first time I'd come back to play shows. And it was fantastic, I couldn't believe how overwhelmingly warm the response was." He jumped the water to complete his biology degree at Melbourne University and soon ended up on the road in Australia.
Some of you may recognise him from his time behind the bar at the Wine Cellar.
"I played in the Wine Cellar a lot, that's how I ended up with the name Skyscraper Stan. Tom Rodwell was playing this summer residency, which was almost every night all summer. He got me drinking one night and his guitar was still on the stage and I got up and started noodling. I hadn't been playing for long, only started writing when I was about 16." Rodwell told Rohan Evans, the owner, and asked if Stan could get up in between sets and play some songs. 
"It was nice to have him back me up like that and give me that opportunity. Many people have sworn they coined the name Skyscraper Stan but it was definitely from that time."

"I wanted to play music in Australia. So I finished my degree over here because it was the quickest way to get here. It took me a long time to get gigs in Melbourne." He got himself some opening slots, through musicians he met on the road and soon he was a staple of the Melbourne scene alongside his band, the Commission Flats.  

He made the necessary journey around the United States. "I went on a musical odyssey, with the first guitarist I had. I just wanted to go to the South and see where all these people whose music I was obsessed with had come from – what the land was like, the food tasted like and just follow in their idols footsteps. I managed to stay in North America for 11 months until the visa difficulties forced me back."

He's looking forward to finally getting the chance to tour NZ, it's been a long time coming. "I don't know what's going on with alt-Americana coming out of NZ, it's a big hotspot for it. So much good stuff is coming out of NZ. I'm going to be playing Lyttleton for the first time on this tour, and I'm interested because I think there must be something in the water. You can't have a town that small and have so much come out of it – The Eastern, Delaney [Davidson], Marlon [Williams], Aldous [Harding]. So much out of such a tiny town."

Stan is kicking things off in Christchurch and making his way up the country. He finishes off with a show onSaturday 5th September at the Tuning Fork with Holly Arrowsmith and on Sunday 6th at Leigh Sawmill Cafe. Full dates below or on Facebook: 
Check out Skyscraper Stan and the Commission Flats debut album below. 
AUGUST:
Wed 19th – Gustavs, CHRISTCHURCH
Thu 20th – Wunderbar, LYTTELTON
Fri 21st – Gin and Raspberry, WANAKA
Sat 22nd – The Sherwood, QUEENSTOWN
Sun 23rd – Taste Merchants, DUNEDIN
Wed 26th – The Cabana, NAPIER
Thu 27th – Bodega, WELLINGTON
Sun 30th – King St Live, MASTERTON
SEPT:
Thu 3rd – Old Stone Butter Factory, WHANGAREI
Sat 5th – Tuning Fork, AUCKLAND
Sun 6th – Sawmill Cafe, LEIGH