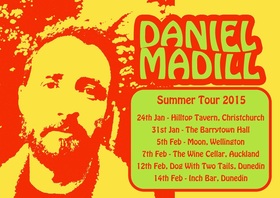 Daniel Madill has been off on his
2015 summer tour
 for a couple of weeks now and there's no slowing down just yet. He comes to the
Wine Cellar tonight!
 Supported by the wonderful
Mali Mali
it will be a gig to be at. 
I had a brief chat with him about his latest EP and what he's going to be up to over the coming year. 
You've used a slightly different technique for recording your E.P this time, what made you do that and have you been have you been happy with that result?
I recorded my first album at Albany Street Studios in Dunedin. I wanted to get away from the studio environment and create something a little more relaxed feeling and something that was more reflective of what I produce in my live performances. The new EP was recorded on an old Tascam MF-01 four track portastudio. Definitely the low end of analogue technology. If you love low-fi this EP is for you. I found the immediacy and tactile nature of using an old portastudio really exciting. I wasn't staring at a computer screen for hours making sure everything was perfect. The constraints of the medium freed me from being overly concerned with making everything just so. I felt it brought more spontaneity to the project. I recorded no more than two takes for any track. It's the fastest recording project I have ever done. I am very happy with the result. I'd like to work on this approach a bit more and try out a few different ideas with it.  
What's the plan for the coming year? Are you going to make a full length or do another EP with this different technology? 
I am planning a series of EPs using the portastudio rather that a full length album. I have no shortage of songs, that's for sure.
Daniel just moved up from Dunedin to Christchurch (a move that isn't overly common these days).
My wife is originally from Christchurch and we both felt like a change of scene. Post earthquake Christchurch is an interesting place, you really get the feeling there is a rebirth happening here. The Lyttleton music community has been very supportive and really taken me under their wing.
If you can't make it to one of the shows but want a copy of the new EP or my previous full length album just go to my bandcamp page. From there you can order a hard copy or just get the download.