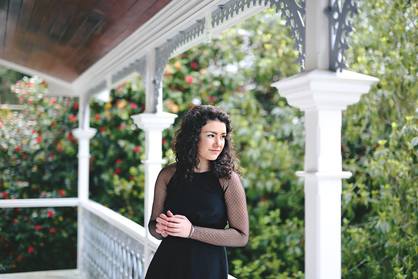 Let me introduce you to Jenny, who in turn, is going to introduce you to her world.
This debut album is harking from Gore and everything about it is attached to the rugged landscape, and Jenny's experience trekking through it and growing up in it. 
The traditional country instrumentation including slide guitar, banjo and steel guitar have been fantastically balanced to let Jenny sing out and tell you her story. The bright tones of the steel guitar and banjo are carefully placed to give the sultry, sweet and low tones of Jenny's voice space, but there's also a driven bass that helps ramp up the toe tapping when Jenny really get's into the swing of things. 
The listeners suspended attention to a debut solo album is truly a testimate to her arrangements and her incredible vocal diversity. From belting out exactly 'how it is' with her heartache, to sharing with you her intimate moments that transports you to her back garden, those grainy and earthy moments in Jenny's voice is like a little patch of heaven it's self. 
The tunes have a familiarity to them, there's something about them that you already know and love, like your mum's apple pie (or you can imagine the comfort of an apple pie if your mum's not really a baker). 'This guitar' tells a sweet story about passing down of an old instrument from one generation to another, and the love and sentiment that can be placed on something so battered and used, within two verses I was already singing the chorus. I felt like I'd known it all of my life. 
At the centre of this world of apple pies and battered guitars is 'Old Oak', a tale of a timeless promise of love. This, album titled track is by far my favourite, but then I'm such a sucker acoustic finger picking and an emotive descending bassline. There's something so sweet, definitely recommended. 
Basically if you, like me, have a guilty pleasure for the old Norah Jones, and was very excited when you heard she has a country band called The Little Willies (the explanation of the name of that band is a conversation for a very different article my friends), then you will appreciate how Jenny has chosen to craft this album. 
Suitable for friends and family of all ages. 
Serving Suggestions: To be enjoyed with a crisp cider in a late afternoon, just as the party is starting, and just after barbies been lit.
(LIZZIE MCCOLLUM)