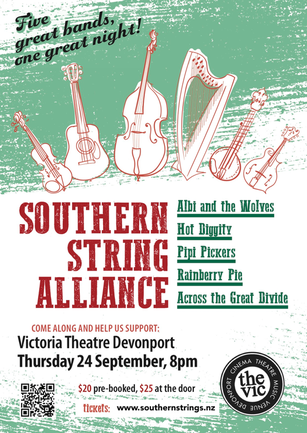 This Thursday 24th an amazing evening of music will be occurring called the Southern String Alliance.
Held at the Victoria Theatre in Devonport it features five bands with many members performing in multiple bands!
Albi and the Wolves
Hot Diggity

Pipi Pickers

Rainberry Pie
Across the Great Divide

This gig began as a crazy Americana fuelled night of music and has become an event to raise funds for treatments of one of their own. Heather Carrigan, the leader of Hot Diggity (the all-female, all kicking ass bluegrass band) suffers from Lipedema, a little-known and highly debilitating condition with no known cure. Their goal is to raise awareness of Lipedema, support research into treatments and therapies and encourage earlier diagnoses for suffers, and finally to help Heather pay for what therapies exist so she can continue to make beautiful music.
The evening is made possible by the Victoria Theatres free venue program for live performance supporting chartitable causes, and what a venue the Vic is. If you've never been this is a great time to see it.
Pop over to Devonport, have dinner in my favourite stop, Corelli's Café right next door and then catch the show.
Thursday 24th September, 8 pm $20 prebooked, $25 on the door.
www.southernstrings.nz