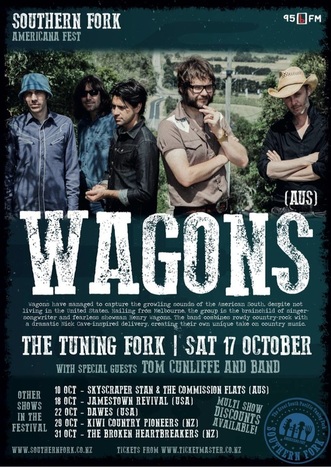 Henry Wagons had just arrived at his holiday house in Mt Martha in Victoria, overlooking the coast and was sitting down for a cold brew. Or that's certainly what it sounded like when I got through to him last week. The holiday home that doubles as a recording studio for his band Wagons, was looking after some stuff he'd need for the bands short trip over to Auckland this weekend.
"We recorded our last album here, I have a bit of a studio set up. It sounds great and it's a good little escape. The dogs can run around," and as is crucial with these environments, it's not in the city.
Recording there is a relatively new venture. "I've recorded a couple of albums here now, but just the one Wagons one. I was just going to demo stuff and then go into a studio, but it sounded so good, we persisted with it. We were really happy with it, recorded pretty old school. It's an album that translates really well from record to live, because essentially most of it was played live. The vocals were recorded through a PA in the same room. Very old school style of recording."
"We've done our last few in studios, in vacuum steel glass boxes and talking to each other through wires. It's never quite as immediate as when you're all in a room together. We wanted to avoid headphones to be honest, and litereally we didn't use one single pair of headphones throughout the entire recording. We just spoke to each other in real life."
He's discussing Wagons' last album, Acid Rain and Sugar Cane, which came out at the end of last year. "We've ended up with a sound that's closest to our live music. It's quite an aggressive sounding record. I think it's easily our best, it's a fine balancing act, balancing a live show with the studio and recordings. It's a great little tight rope walk that I like."
"These shows coming up in NZ are going to be kind of a grand finale for this album cycle. But we're not sick of playing them yet, we're just doing a final lap." It also is acting as almost the final lap for the band before they take a well earned rest from each other.
"We've been on tour with the band more or less non stop for six years. Even when i did my solo EP a few years back, the band Wagons played on that and helped me with the live shows. We're taking a little break from each other, not necessarily because we hate each other, but we've all got plans for the next year."
Henry's own plans are his fist full length solo album which will be coming out next year.
"I've just come back from Nashville, a very different recording experience. I've been in and out of Nashville for a long time, it's a great scene. The pop country thing is dying a bit, and the industry is changing. It's cheap to live. There's still the pop country, but there's also an incredibly rebellious underground rock scene, that creates a little vortex that makes the whole place probably my favourite music scene in the whole of the united states."
"It's a really exciting place to make music, there's a lot of industry, but a lot of musicians hanging around, that are sympathetic to a song. In Nashville, there's a lot  of sosngwriters and musicians who are sensitive to punctuating songs in really interesting ways.
Having been through and playing with a bunch of bands over the years, I kind of got to handpick my favourite weird friends to play on the album – who are all very accomplished and fun, but very weird. So it's not necessarily a straight country record. Very skillful album that has nothing to do with me in its skill."
In nearly fifteen years together, Wagons have only just started coming to New Zealand.
"I regret not going years earlier. Everyone was so kind and very fun and showed us a great time."
Catch Wagons on Saturday 17th October at the Tuning Fork as part of the Southern Fork Americana Fest with support from the brilliant Tom Cunliffe.