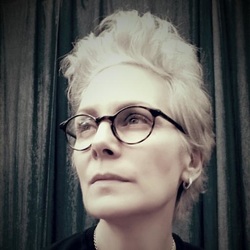 ​I had a lovely chat with
Donna Dean
, discussing among many things, the
Auckland Folk Festival
and her spot at the February 2016 festival, the country music scene in New Zealand and her recent move out to the Pohutukawa Coast, and her feeling she's found the place she'll stay for a long while. 
Donna Dean has long felt a little out of place in New Zealand, especially as an artist that walks the line between folk and country music. "Back when I was looking for places to play I contacted some of the country clubs and they went '
ooo you're a bit folk for us
' because i'm a singer songwriter. Then i tried some of the folk clubs but they said '
ooo no you're a bit country
'. I didn't fit in anywhere, so I've just kept doing my thing for all these years and finally things are changing a bit." 
This particular attitude in New Zealand did scare Donna off for a wee while as she took off to live in Europe and Australia. "In America they don't pigeon hole people the same as they do here. Some of the real purist people would say the new stuff isn't folk, you can't have snare drum in a folk band, or an electric bass. I'm glad things are changing here though." She's especially pleased to see a bit of a shake up in the country scene which allows for regional circuits and clubs to welcome in artists like her that perform primarily their own songs. 
"It was a big part of why I decided to go overseas. It's meant i've got a look at different traditional folk clubs in England, but there's also the younger people who are really making a difference and changing it there too. I've ended up in between the older group and a younger group. I don't think of myself as one or the other, i just think of myself as someone who picks up a guitar and gets on the stage and tells stories with my songs. That's what country and does and folk, and blues, and bluegrass. In America they call it Americana." 
Donna has been writing and doing a little bit of live recording in a studio up in Riverhead since she arrived back in the country a year ago. As a three piece with upright bass, a lap instrument and herself. "I have a few different lineups I use, I play solo and I love doing that. I play as a duo with Glen Campbell who plays dobro. Then I play as a trio adding bass, and then I have a full band as well, with drums and electric guitar on top of the trio." 
Donna has had a regular gig for almost a year at the Thirsty Dog, working with her new band and trying out her new songs. She's been recording, and is excited about this, and is looking to perhaps make an EP next. "I love the studio side of things, but I like being on the stage, I like the solo thing, I like the duo thing and I like the whole band thing." Donna is enjoying it all right now. 
Catch Donna Dean as part of the Kiwi Country Pioneers night at The Tuning Fork this Thursday 29th October!
(FINN MCLENNAN-ELLIOTT)