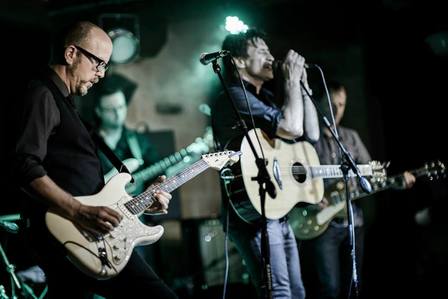 ​Greg Fleming
has turned up back on the scene in the last few years after a phenomenal 15 year gap between albums. With new album
Stranger In My Own Home Town
being received better than any before, himself and band The Working Poor are making waves. 
He doesn't necessarily see themselves as a country band however, "We're one of those bands that don't have any preconceived ideas, I just bring the guys the songs and we just go for it. There's country, there's blues, a bit of jazz. In the end, I like being able to do anything, not being just on one thing. I've even been writing in a lot of hip hop style things, with just beats in mind, but then i just wrote a very country song." 
"We recorded the second album in 1994 and it took a long time to get released for boring reasons in 2010. We've been making up for lost time." There's been a great response to the last couple of albums. "The last two albums, with the new band the Working Poor, have been very well received. Joking around with the band about how we call ourselves the Working Poor, as musicians never make any money, and then it just stuck. The last two albums and the next one, I'm thinking of it kind of as a trilogy, with repeating characters if you want to read into it. These characters that pop up here and there. I'm really proud of the last two records. It's now just about getting it out there. I find the record easy to make but the other stuff harder." 
"We've got some good feedback. Things are happening, funnily enough more in the States than here. Who knows what's going to happen. It's just a matter of keep on keeping on and keeping enthused. A matter of putting out good songs, wouldn't be doing it if it wasn't for that." 
Sometimes people seem surprised with the dry wit that comes through on Greg's songs, and many people seem to come away shocked when he puts out a happy or uplifting song. But that's not how Greg sees it! "I always thought this last album had a good dry sense of humour but maybe no one else caught that and I was wrong!" 
Catch Greg Fleming as part of the
Kiwi Country Pioneers night at The Tuning Fork
this Thursday 29th October! 
(FINN MCLENNAN-ELLIOTT)