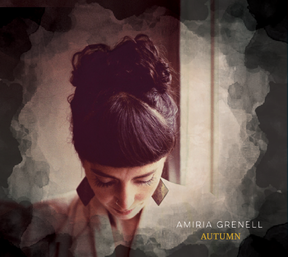 Autumn
is Kiwi folk Songstress
Amiria Grenell's
third album, the first produced through her own label Quiet Bird Records.
Autumn
follows on from her Tui Award winning
second album
, so expectations were high. 
There's no denying that Amiria Grenell has a stunning voice and when paired in various combinations with over 20 different instruments, it makes for a album of great depth, variety and intrigue. At first I struggled to think of bands to liken her music to, a testament to the unique sound of this album. Vocally, I'd compare her to the likes of Bic Runga and Laura Marling.  As hinted at by the album title, her lyrics draw much inspiration from nature. 
Highlights for me were A dance with Pride, full of beautiful harmonies and thoughtful lyrics and Sea Salt. Lyrically intriguing, there aren't so much lines as there are random words thrown together to paint a picture open for interpretation – an evening spent watching the sunset past the ocean perhaps. 
A charming and captivating album, perfect for some lazy Sunday afternoon listening.
(ERICA MCQUEEN)