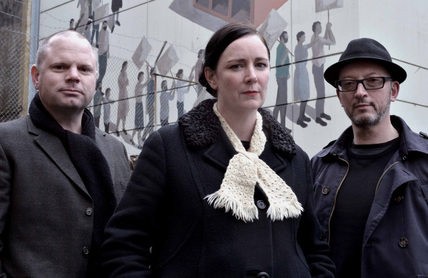 John Howell is back in Dunedin, after many years away overseas. It's been five years since him and wife Rachel Bailey, who are
The Broken Heartbreakers
have put an album together. Originally based in Auckland they needed to get away for a time.
"We've been away from Auckland for about five years now. Rachel is from Ireland originally and after we got married in 2010 we decided to have some adventures. We scrambled around Europe with our guitars and played a few tunes. Then we came back the long way via Melbourne and moved back to Dunedin where we are now, it's my hometown. It's a good place to be."
Since their last album, Winter Sun, they've pulled a new band together in Dunedin featuring drummer Jeff Harford and bassist Richard Pickard and have recorded a new album, How We Got To Now. This is very much an album full of memories, community, loss and hard won love.
It's been an interesting path to where they are now and we travelled the path a little bit in our conversation. We actually started by having a chat about the Dogs Bollix and how they came to be playing folk and alt country.
"We used to play there when we first started, back in 2002, 2003 and we used to put on shows called When Country Came to Town and it was a bit different in those days, that was quite radical. It's a bit weird now because it's so mainstream these days. It was quite an unusual thing to do 12 or 13 years ago. Still a hangover from the 90s with dance music and noisy guitar bands. The simple act of playing an acoustic guitar and singing in harmony was kind of radical in those days, seems crazy now and the Dogs Bollix was the place."
Of course John sang the praises for the Wine Cellar, the mainstay of the folk and alt country world for many years, "You can't kind of overstate how critical and crucial that was [Rohan opening the Cellar] for any kind of scene around folk, and the wider context of the genre."
For a band that are quite electric they sit well within the folk world, and have done for a long time. John tried to work out why this was and how it came to be. "I've been trying to work out why we have found ourselves in the folk crowd and how we fit there. I think it's because we found that there was a sense of community in that scene that doesn't exist in other genres. There was a supportiveness and although, particularly on this album, there will be songs that couldn't be identified as traditional folk, I'm far more comfortable with that label than anything else. I think folk in its purest thing is music for the people of the people.I think we also need to broaden the concept of folk music and focus on the intent of the music, and the community. I think that's the important part."
The Broken Heartbreakers are touring their new album right now! It's the first foray out for the new band, and the first time they have performed as a band since the Winter Sun album. They're excited to say the least. "We only really started touring from about 2006/2007. It's very different than living in your town and gigging around it. When you start touring that's when you make those connections with musicians in other towns and they are really long lasting and special bonds. It's going to be a reconnection for us, this tour, with all our extended music community. All the opening acts for this tour are friends."
Catch them at The Tuning Fork on Saturday night as they close the Southern Fork Americana Fest with their good friends Reb Fountain and Steve Abel. Tickets here! See you then.
(FINN MCLENNAN-ELLIOTT)