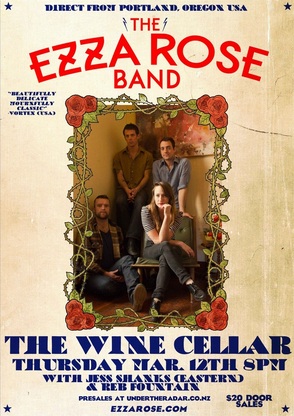 Wearing Nathan JR's (M. Ward) old black Gibson Les Paul that she nicknamed Betty after her Grandmother, Ezza Rose sings with all her might. 
"Her voice is consistently smooth and clear, ethereal, and from the gut. It rises, glides, and falls." Eleven PDX
Ezza Rose grew up in Julian, California – a mining town rich in American folk music and renowned for its world famous apple pies. She left home for the big city to fulfill her dream of studying at the AMDA (American Musical and Dramatic Academy) where she enrolled in their 'triple threat' program; dancin, acting and singing her way to graduation. Bent on moving on, she hitchhiked to Portland, Oregon and found a new home. 
Ezza has been touring North America ever since, and has just landed after traversing the Alaskan wilderness with her 'plugged-in folk'. She arrived in New Zealand, band in tow to tour up, down and all around our fair country, with support from a stunning array of musicians. 
Featuring songs from her new album When the Water's Hot and a whole lot more. 
Catch the Ezza Rose band at the Wine Cellar THIS THURSDAY 12th March. They will be supported by the ever beautiful reb fountain, and the phenomenal Jess Shanks (of The Eastern).