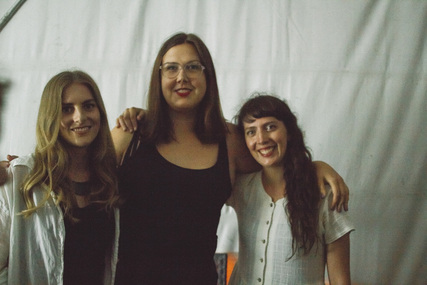 In a somewhat strange twist of fate, Fraser Browne (of Paper Cranes) ended up driving not one, not two, but all three of the finalists for the 2016 Best Folk Album to the Auckland Folk Festival, where it's presented annually.
Amiria Grenell was up for her second Tui for 'Autumn' after winning with her album 'Three Feathers' in 2012. She was joined by Holly Arrowsmith who penned 'For the Weary Traveller' and Nadia Reid for the gorgeous 'Listen to the Formation, Look for the Signs'.  
It seemed silly not to chat, so we grabbed some beers and sat in the car and (without driving), talked about life in the folk world.
Congratulations on being nominated and on three absolutely stunning performances.
It sounds like the beginning of a bad joke: there were three folk musicians in the car with another folk musician, all who had put their album forward for the Folk Tui. How does it feel to be nominated?
Holly Arrowsmith: It feels really great to have something you worked so hard on – and so many people worked so hard on – to be recognised.  A lot of tears and energy and time goes into something like this. It's kind of cool for it not to just fade into oblivion. 
Artists put a lot of work into an album and by the time you finish recording it feels like ages ago.
Nadia Reid: I've had a really long process with recording this album. From the time it was written, recorded and then released, it's been ages. And you know what, I'm actually ready to move on from it. It was like six or seven years of songs. It was such a long wait before it happened… 
But also just back to the feeling… I'm totally pumped it's just three kick-arse women just ruling it.
Amiria Grenell: Yeah, same.
NR: Just dominating. We do love the men.
AG: But we run the world.
NR: Recognition is partly – not the entire reason why we do this but it helps give us a sense of purpose because otherwise. 
Richard Pickard, Nadia Reid's bassist, joins us.
Richard Pickard: Oh, you're in the car!
All: come in. 
We're here at Auckland Folk festival. What are your favourite experiences of folk festivals growing up?
AG: My first performances ever were at folk festivals in the South Island. I'd go with my mum and my step dad, and often take a friend. I'd have this little nylon string guitar that I started writing on when I was ten. My first performance of my own songs would have probably been when I was ten. It may have even been at Whare Flat [Dunedin's folk festival]. 
Going to Waihi Bush folk festival was pretty amazing as well. Folk festivals remind me of the amazing family music festivals we had on our farm growing up with workshops with different things – the Whitecliffe Family Music Festival.
NR: I grew up at Whare flat pretty much. I mean, not from a baby but yeah.
Did you ever play at the same festivals?
AG: I'm not sure…
NR: I did all the blackboards. I was probably really chubby and really bad, and shy…
AG: I was quite young the first time I would have gone – I would have been eleven, twelve, thirteen…
NR: But festivals totally sparked my stumbling into it.
AG: Did your mum take you?
NR: Yeah, it became a tradition. Seeing live performance. Waihi Bush too – that was the first time I got on a proper stage with Hannah [Aldous] Harding.
 
And you, Holly?
HA: I never went to folk festivals when I was young.
NR: You just sprang out of somewhere eh…
HA: Haha, I don't even know where from…  My dad's from America, and he was there in the 60s and 70s, going to the most amazing shows that he tells me about. My introduction to folk music was sitting in front of his CD cabinet every day after school and listening to his CDs. Imagining that I could play the guitar and sing like them.
 
Folk music crowds usually listen to lyrics quite intently, with storytelling often taking the forefront. I find lyrics evoke a certain place or time. Can you relate to that?
AG: One of my songs 'Evelyn' is about a lady who I have never met. Some songs you write are really about something you're going through, while others are about something someone you know is going through.
Or sometimes it just is a made up story. 'Evelyn' is about an old lady who doesn't have many friends anymore – and I don't even know where it came from. It's quite a sad song, but I remember introducing it – to maybe even this festival a few years ago – and what I realised that what it came out of was that I'm so grateful for my female friends, my sisters. They're just such a huge part of my life and community and support. I really value my girlfriends. 'Evelyn' is about a lady who needed to re-find friendships.
NR: With this album, I'm sort of removed from it right now, because time's passed and I've changed so much since Rich and I went into the studio to make that record – but there are some songs in there that touch on some pretty intense stuff.
I struggle getting back to that place where those songs were written. I think we should always be moving forward and looking back on albums that we make and saying "that was that point in time and that was what was happening". I conquered some massive stuff since this album was written. It's quite a sad album and sometimes I don't think it represents me anymore.
 
Is it hard to get in the same space performing as you were when you were recording?  
NR: Yeah, I find it really hard to sing songs about feeling a certain kind of way. That's the beauty of music though; it represents a point in time – time continues to go on.
 
Each song has a spirit behind it. Sometimes when you performing it can take you there unintentionally.
HA: It can be quite powerful.
NR: Sometimes it's hard to get in the zone.
HA: Yeah. There are so many factors going on.
AG: Nerves are really bad – sometimes you think you're not but you are. I have this thing where I try to imagine a lion inside me… haha… a strong lion, dominating.
Richard Pickard: Hey, sorry… I need to get out. It's babylocked.
AG: I'll let you out.
Richard leaves.
 
How do you see the NZ folk industry and any positives going forward?
NR: The folk communities and clubs need to not be so rigid and they need young blood.
AG: We make our community. We all get in touch together with different ideas, venues, people to contact.  We need to keep our communication up.
NR: They need to support the young people because some of these clubs are **stuck in their ways and they need fresh ideas.
But the folk scene – I've sort of had this epiphany lately about artists like Tiny Ruins, about how her work has paved a way that almost allows my record and others to be received more easily overseas in Australia, America and Europe, because of the work she's done.
She's softened the audience. Folk music four years ago, five years ago was not cool. No way would a folk artist be playing at Laneway festival. Now all of a sudden it's like something clicked in people's minds.
HA: It's rising up internationally. But it is still so hard in New Zealand to make a living off it.
NR: But that's with any genre, eh?
HA: That's true.
NR: That's a depressing fact that I get told all the time, that you have to leave New Zealand if you want to sustain yourself.
HA: But it's a great place to come back to.
We're sitting here before the Tui has been announced. I thought I would ask you to do something unusual – if you had any pay it forward kind words for each other. What is the thing you admire about each other as folk musicians?
AG: Can I go first? You two are both incredible. What blows me away about Nadia's music is her incredible v
oice that is so strong and mighty, and her guitar playing. Tonight it just filled up the whole… I want to say stadium… but it's a massive marque. It just gives you chills. They're those songs that get stuck in your head.
And Holly – your songs, the words that you use absolutely blow me away. It's all about nature, which I'm really drawn to as well. So I really admire Holly's beautiful songwriting and the tunes are really, really catchy. I know a lot of them off by heart. When I go to her gigs I'm always quietly singing harmonies in the background. Her guitar playing blows me away as well. I'm like "how do you do that?"
 
NR: I feel like, you know… I don't even really mind who gets it. Any of us would be awesome. It doesn't matter, all this sort of stuff – all the press and awards, they don't change anything.
Amiria, I really admire your fierceness. You have to be really fearless and brave and keep going [as a musician]… and I admire that about you. And you just f—— get s— done. I'm sure that we all have times where we just want a day job in a library… [Laughter.]
And Holly – that show we did together at the Wine Cellar I was instantly hooked. I'd already heard of you. I think it was Richie that said to me "there's this girl, Holly Arrowsmith from Arrowtown and you should check her out". Just no words, you have to keep going. Keep killing it.
 
HA: Thanks… Nadia, your voice is like liquid silk, it just runs over you. It's flawless and incredible. Like that first show as well. You bring this presence to a room when you sing that makes it impossible for people to think of anything else. You are all that people can focus on. You demand people's attention, it's wonderful. I'm so glad you're getting so much recognition for that as well.
My first tour was with you, Amiria, and it was just a wee one. But I remember I was not confident in speaking to the crowd. I actually hated that part of performing and just wanted to play my songs and not speak between because I thought I'd just screw it up. I remember you are so great with the crowd – and such a great guitarist, songwriter and singer of course – but you just make people feel so at ease and welcome. You were like the tour mum. [Laughter.] Such an awesome experience of a first tour – because the first one could really make or break an artist.
The same as what Nadia said. You've been doing this for longer than us and you just keep going and making amazing music. It's so inspirational.
 
It's so hard as musicians to support each other but at the same time we're a community. It must have been good finding out you were finalists together?
HA: We have to support each other.
AG: When I found out it was us three as finalists I was so happy.
NR: I feel proud to know you guys. Whoever gets it… it's awesome. I'm so happy it's us, the three of us.
 
I won't be getting it.
[Laughter.]
AG: It's girls only.