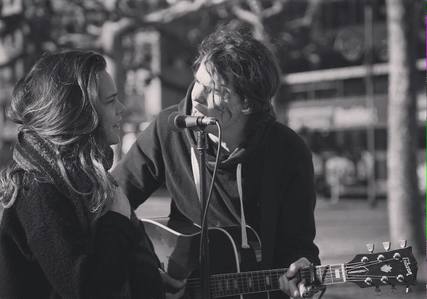 I spoke with Joseph Thompson last week, shortly after Joseph & Maia arrived back from Europe. Having spent eight months touring the UK and the mainland, they were happy to touch down and get a bit of relaxation with family. 
"It's been crazy, a wild ride. I feel like it's been going good. It's getting better and we head back over in about three weeks and this year should only get easier. Some weeks we had seven days straight [of shows], basically we'd busk all day during the days and that's been incredible for us. We're pretty tired. It's very nice to have a break."
Busking was a massive part of their trip. "It's a fun way to find people who would never have necessarily come to a show, we've been in a position to reach more people that way. We sold more records than we ever have before in our own way. It's been phenomenal." 
"It's been a fun mixture of making friends, booking every opportunity that comes our way. Some have been horrific, but most have been amazing. We've been on the road for 8 months and we've played 130 shows. The good shows always outweigh the bad shows, but you always get that reminder to work hard." 
The road can be tough, most artists feel a mixture of love and hate for touring, "We have enjoyed it. We keep talking about this idea that the way life works on the road is you get higher highs and lower lows than what we used to. Some days are the best days of your life."
 
They spent more time in the UK than any other country, although half the trip was spent touring mainland Europe. "We spent four of our eight months in the UK. We made some really great friends and had some good opportunities, in terms of writing new music, and in terms of what our plan is going forward. That pulled us to the UK, although this year will be more orientated to the mainland Europe." 
There always seems to be a moment on artists tours that something random and fortuitous happens, for Joseph & Maia it was meeting Passenger on the streets of Brighton and being invited to perform in Spain with him. "We got invited to go down to Spain. We got an email that Passenger had heard our record. We'd actually met him in Brighton while busking, and he'd stopped and said hello. Eventually he emailed and asked us if we wanted to come and play a show." They opened his night at a festival in Spain, their first time in the country, and had a wonderful time, all due to well timed busking! 
I had to ask when the next record would be, and if they'd made any progress. "We spent about eight weeks in Brighton over winter, not playing any shows, staying still and we started working on what will be our next record. I hope this lifestyle does support creativity!" Writing on the road was difficult but with some downtime over winter and now with some downtime at home perhaps they'll get some songs in the bank! 
Joseph & Maia are putting on a house concert in Auckland this Friday 26th February! Tickets can be bought here, and it's 'pay-what-you-want', plus it'll be lovely and intimate! I highly recommend you go along, it might be the last time we see J&M for another eight months!