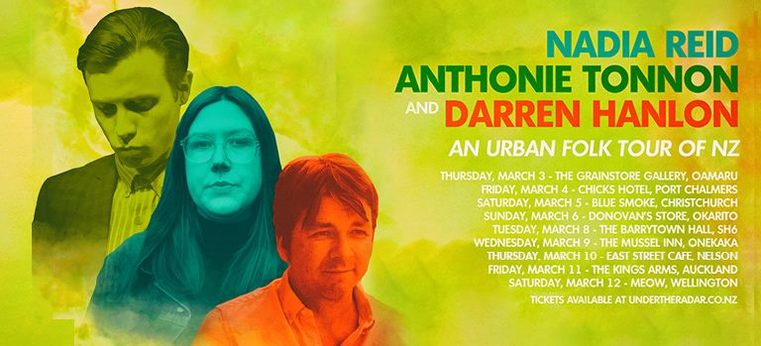 Anthonie Tonnon emailed me a while back to say, "one day I will convince you I am a folk musician." I love Anthonie's music, and any that haven't listened to his latest album
Successor
need to do that now, but I am not sure whether I would call it folk music. One thing i will say is that Anthonie is lyrically driven, story driven and is always intent on creating something that listeners can follow and that has a history to it. So when Anthonie again emailed me to say, "I warned you, here it is, 
urban folk,
" I was excited to support it. 
Fast forward, the summer has got away from me and the gig I'm talking about is THIS FRIDAY! 
Alongside Anthonie Tonnon is Australian urban folk master Darren Hanlon, and our next big name Nadia Reid. Darren Hanlon is considered an Aussie treasure, selling out halls and churches all around the country on his annual Christmas tour performing his intricate and off kilter folk music. Coming over from Melbourne to tour with Nadia and Anthonie, he brings a new album recorded during a long journey through the Mississippi Delta, all the while picking up stories, friends, and backing musicians. 
Nadia Reid doesn't need much introduction to my audience, a recent finalist for the Tui for the Best Folk Album (check out our interview with all finalists here), a long-list finalist for the APRA Silver Scroll last year and a finalist for the coveted Taite Music Prize in 2016. She has just announced a World Tour and is spending more and more time crossing the ditch to perform, and she hasn't even released her second album yet! We can't wait for more from Nadia. 
And, finally, we have Anthonie Tonnon who is also up for the Taite Music Prize in 2016 and was a top five nominee for the APRA Silver Scroll, bringing (in his words) his futuristic folk set. He has recently had a successful tour of the USA, Australia and New Zealand supporting his new album, Successor. Anthonie performing alone is a totally different experience than with a band, and one I enjoy immensely as he connects wonderfully with his audience and draws you into his political and intellectual lyrics. 
Performing this Friday 11th March at the Kings Arms Tavern from 8pm. Tickets can be purchased here!