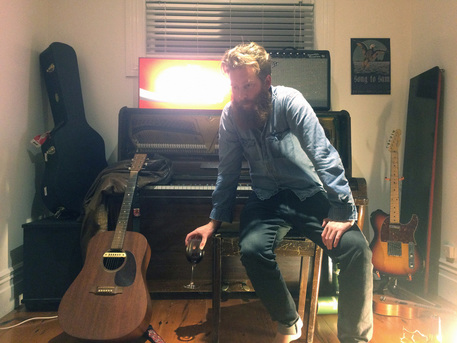 Tom Cunliffe's brand new debut album 
Howl and Whisper
 came out a few weeks ago and it's brilliant, pure brilliance. I had to find out what had gone into it and what makes Tom tick. I love the answers to these questions, it provides an honest and perfect look into the mind of a funny and truly kind songwriter. 
When did music become the thing you wanted to do?
I came late to music, at least in terms of creating it. I was 23 before I started performing my own songs, though I had been writing since I was 16, badly and secretly. It was my obsession with Tupac and Nas that got me writing, but I never had any ideas about becoming a hip hop artist – I was a skinny white kid with long blonde hair. A friend described me as looking like a pale female ghost. Of course now I would never suggest that pale female ghosts can't be hip hop artists, but at the time I felt like it discounted me. Anyway, my dad suggested if I like the words so much that I try Bob Dylan. He put on Blood on The Tracks and I loved it. I quickly set out to learn 'Don't Think Twice It's Alright', which took me about three years. My guitar playing and my rhyme writing just kinda worked themselves together over time until I was spending all of my spare time doing that. It's gotten to the point where I don't have time to play GTA anymore. Sad in a way. 
How and Whisper is your debut album, how long has it been in the works?
​Some of the songs have been around for a long time. 'A Park In Barcelona' was written in the first few days of 2012, in a park in Barcelona. Then I wrote 'Just Kid's' in an airport lounge on the way home. Those are the oldest songs on the album and they sort of coincide with me taking music a little more seriously, I started gigging a fair bit around then and a lot of the other songs were written because I needed new stuff to play live. At this time making a proper album seemed so distant, like muffled bass from a party somewhere, I couldn't reach it. But the more I played the more musicians I met and they helped immensely. One weekend myself, Will Wood and Dave Khan drove down to Rotorua to play Karin Vincent's Rogue Stage (if you ever get a chance to attend one of her gigs you must) and it was on that trip that we hatched plans to head down to Lyttelton to record with Ben Edwards. The recording was finished in ten days last July but it's taken almost ten months to sort everything else out. The next one will be quicker I think! 
You have played at The Wine Cellar [in St Kevins Arcade on Karangahape Road] so much, has this become a home away from home within Auckland for you and other musicians, how important is it to what you've become? 
I bang on about the Wine Cellar so much to all my friends and now I get to bang on about it to strangers, thank you! It's my favourite place in this city. The beer is delicious and cheap, the rugs are on the walls not the floors, the toilet graffiti is insightful, the bar staff tuck tea towels into their jeans, the people there are all happy they're there and the music is incredible. There's nowhere else I'd rather play. At the Wine Cellar you can really feel the music connecting, or not connecting, with the audience. The crowd share their energy. It's a place where you can have anything from a hardcore punk show to a whispery folk gig and it's always right. Plus, Rohan always has funny jokes about the incorrect way I'm coiling a cable or mucking up my equipment. 
4. Who do you owe thanks for in this music scene you are part of?
Rohan Evans, for letting me play shows even after I brought printed set lists to a gig one time. Will Wood, for heaps of stuff, way too much to get into. Dave Khan, for worshipping with me at the church of Bob. Steve Huf and Thomas Landon-Lane for adding their genius where I had none. Ellen Cunliffe, Charlotte Nicklin and Helen Brown, for their beautiful voices and for their laughter. Ben Edwards for his vision and his big heart. Sam Prebble, for playing music with me when I wasn't sure my music was worth playing. There are so many people, Bernie Griffen, Reb Fountain, Steve Wheadon, Brendan Turner, Nick Atkinson, Tim Stewart, all for filling our nights with wonderful music. Also, all the people who come out to hear us tell our stories and sing our songs!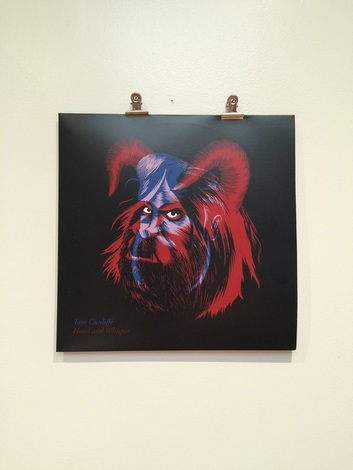 You've got a tour of Europe planned for this year, how exciting is this for you?
It's something I've been excited to do since Will came back a couple of years ago, raving about life rambling around Europe playing music. Now I have the chance to head over for a month and join up with him on his travels, play some interesting bars, meet more amazing people and swap songs with the other side of the world. We're heading to the UK for a bit, hopefully it'll be like 'The Trip', that movie where Steve Coogan and Rob Brydon travel around the north of England eating food and swapping Michael Caine impressions. Except we'll be doing Townes Van Zandt impressions. And our diet will most likely consist of hops and pork scratchings.
What is your favourite song or story about a song on the new album? 
My favourite song on the record is called 'Time To Cry', the story isn't a happy one but it's an important one I think. When Sam Prebble died it shook our world. I remember being at home after his wake weeping uncontrollably. In the months after his death I had been thinking about how many men suffer from depression, the possible reasons and the pressures on men to be a certain way. To be always strong, to be the life sacrificed for another – in war or in disaster, to be stoic, to be the rock, to be rich, to be religious or to be straight. When I cried I realised that I was crying 'like a girl' or 'like a woman', I realised that there's no way to cry like a man and I think it's a big problem. So I wrote a song about it, because I didn't know what else to do.
7. How did you find working with Ben and the team in Lyttleton? It seems to be the place to go for folk/Americana music these days, and they look like they have a great set up and wonderful thing going, did you ever consider going anywhere else? 
It was the best two weeks of my life, I'm glad I never considered going anywhere else! Ben has created an incredible space: welcoming, remote, warm, supportive, open and with what must be one of the best views from a recording studio in the world. But it all works because of the way Ben throws all of himself into the project, it's full on work and Ben's always working. He has an incredible ability to feel the song, to get beyond the literal meanings that could complicate things and just get straight to the bones of it. Then he treats each song with reverence, helping each song reach the sound it's calling out for. So yeah, Ben's pretty cool.
Tom is performing at MOON in Wellington on May 13th and as part of a bFM Music Month showcase live to air at the Vic Theatre on May 18th. Go check out his album, and buy it! 
(Finn McLennan-Elliott)