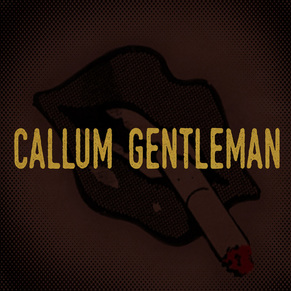 We caught
Callum Gentleman
in the middle of his extensive countrywide tour and asked him a few questions. He's playing with Fables at Golden Dawn on 
Wednesday 22nd June. 
1. When did music become the thing you wanted to do? 
When my mum made me watch the Muppets. It took a bit longer before i had the guts to actually do it, but that was the start.
2. You've been working on this latest EP for a long time, did you enjoy the process more for being able to take your time, mull over it, work on the songs longer? And now that it's out, looking back are you happy about all your decisions? 
Much like the gap between the inspirational Muppets & me actually making my own music, the EP took ages to come about. I was never happy with any recording I did. I realised that I just had to do it, just had to get something out. I needed to break the ice for myself. I enjoyed mixing way more than i thought I would, mostly because Ryan Green who engineered the project was a great dude to hang with. And now it's out…it's out. I'm happy I've done it, & other people are enjoying the songs. I've decided to strip back for the next recording session. We're in at The Lab in August & I'll go with a far simpler approach, more like the live versions.
3. How's the extensive tour been going? 
Excellent! I listened to the entire recorded history of Nick Cave on the journey south, the entire Tom Waits north, & just started on Bruce Springsteen. Been touring since the EP was launched on 15th April. I've been as far north as The Butter Factory in Whangarei, all the way South to Redcliff Cafe in Te Anau. Finally made it to Takaka for the 1st time, how could i have never been to Golden Bay!!?? Just one of many highlights. Just played The Common Room in Hastings last week (bloody great that place) then wrapped up the week on Sunday with The Rogue Stage in Rotorua. I've already found an excuse to get out on tour again in October/November.  
4. Do you consider yourself more than a musician when it comes to stage performances? Like a poet, or a storyteller or a entertainer? 
I never trusted my music skills, so the other parts of the performance were my saviour. I'm happy playing music now, but if you're getting up in front of a group of people to play, especially if you're solo, you've got to do more than a well played song. I like talking with the audience during the sets as much as playing. 
5. Do you have a favourite spot to play in Auckland, and the country? And do you have favourite musicians to share the stage with? Not even favourites, just ones you love working with. 
I loved the Lucha Lounge…enough of that, the loss is still too present. I played the Common Room last night & it's a new favourite. The Wine Cellar holds a special place. I love hanging out with … heaps of folk! Reb Fountain, Will Wood, Tom Cunliffe, Brendon & Alison Turner, Alayna Powley. I play with Joel Vinsen a lot & Sam Loveridge recently started playing fiddle on some of my songs. They're playing with me most gigs when I'm in Auckland. 
6. What's in store for you for the rest of this year? 
Write more, play more. Recording in August, tour October and November. Get other artists gigs! Live a little.