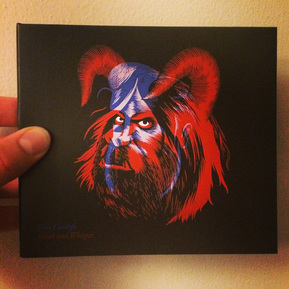 ​Equal parts whisper and howl,
Tom Cunliffe's
debut album is a delicate, beautiful, yet powerful beast of an album.  
Yet another musician who has recorded with
Lyttleton Records
(something good in the water there), Cunliffe was born in and his family has roots in Westport, Ireland, which explains the Irish feel to some of the songs and the characteristic lilt in his voice. 
Cunliffe is a strong storyteller and songwriter, too, making this album one of the most impressive debuts I have heard. 
In the howl camp there's the celebratory and tongue in cheek 'There's your Lord', which gets the toes a-tappin' early in the piece – a sardonic hoedown which has a touch of Johnny Flynn about it. Whispery opener  'Old Moon' is a lovely ballad that stays relaxed but has one of the catchiest trumpet riffs around. 
Don't let the uptempo slant of some of the songs fool you; the lyrics are thoughtful and interesting, making it worth repeat listens. 'They Dug It All Away' tells a story of a mining disaster, there's the ultra-melancholic 'Just Kids', or 'Came My Way', which sounds a little bit like a wistful Nick Drake (or maybe Rodriguez):
"Smiles in the park
Gravestones in the dark
Shadows on the ground
Winter's coming round
She said into her scarf
Her duffel's touching mine
A beautiful goodbye
Today, came my way
Came my way, came my way." 
Produced by Ben Edwards, the instrumentation is tasteful throughout (there's mandolin, trumpet, violins, banjo, and horns, as well as the usuals) intertwined in some beautiful – and raucous – mixes. The band support Tom Cunliffe's songwriting superbly well, and the album (recorded by the five of them in 10 days) has a freshness and rawness about it that's rare these days. 
In short, this is the sort of music that can pull you out of a bad mood, but has enough melancholy in it to let you wallow if that's your thing.
Howl and Whisper
is a lovely dance partner, equally adept at the faster songs or slow ballads; it had me in its arms from the first listen. 
(FRASER BROWNE) 
You can purchase Howl and Whisper direct from Tom through bandcamp here.