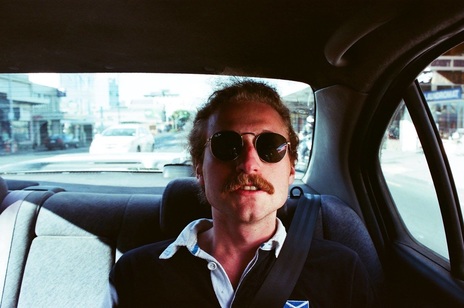 Dave Weir
is a name known by many for his work with Auckland bands, The Nightshades and New Gum Sarn, but now he is about to go it alone! Weir is releasing his debut EP
Food for Thought
this Thursday 18th August. Having moved to Hamilton recently I managed to catch up with Weir after one of his travels between Auckland and where he now calls home. 
Weir grew up in the midst of Ponsonby and Herne Bay, "I have three brothers and none of them play music, though we all listen. I never planned on becoming a musician and sometimes I think I'm not one – anyone can play guitar; anyone can play anything. I was drawn to the guitar at a young age though, around 8 years old, but I didn't play until I was 15 and I learned the bass first." 
Music wasn't a path Weir knew he'd take, he isn't even sure what that path looks like, "If music is a path, it is a very broad one, and easy to get lost on." I asked Weir if he thought living and growing up in Ponsonby played a part in how he views music and this life he's chosen, "I don't really know how to answer that, Ponsonby and Herne Bay are really different these days. Ponsonby is like a shopping mall now. My childhood was a blur of ups and downs, all contained within a generally safe, privileged environment. However, few things can prepare you for life's harsher realities like death and heartbreak, mental illness and addiction." 
Weir attests that the bands he's become known for were sort of always formed by chance, "The bands I'd started with friends in my early teens tethered off. I joined Space Creeps after I heard that they needed a guitar player. I tried out and got the gig. It was a similar deal with New Gum Sarn, we met one day and it seemed like the next week I was playing bass in a new band. The Nightshades are working on our second album. We began with a solo set I played in a flat on New North Rd, after which two friends agreed to become a band with me." 
"My first solo work was a collection of love songs I made for a girlfriend. I only made one copy. This EP 'Food For Thought' started as an attempt to rescue a selection of my songs from their bedroom haze, give them new life, so you don't have to lean in to listen. Between the two guys I worked with, Jacob Moore and Tim Shaan, many great albums have been made, so they were just the guys for the job." 
Weir has only great things to say about Whammy Bar and The Wine Cellar, and is one of many who are sad to have seen Lucha Lounge close its doors for the first time. "I would say the music scene in Auckland is lively and supportive. 95bFM does good things for alternative artists, and there is the Secondskin Collective who aims to encourage a wider range of voices and more equal participation in the alternative music scene. People are conjuring new music and putting on new events and trying to make sure people don't fall by the wayside, and that spaces are safer for everyone." 
Basing himself in Hamilton at the moment, Weir's moved back in with his parents. He's brutally honest, "I'm in Hamilton because I don't make any money to live off of, so I'm with Mum and Dad and I'm going back to University. I'm not sure if I intend to stay, I prefer Auckland. Music has never been easy for me, and having to bus to Auckland to play a show and sleep on couches until Winz comes through so I can get a ticket back doesn't make it any easier."  
You can catch
Dave Weir
at his
release show for 'Food For Thoughts
' on 18 August at The Wine Cellar in St Kevin's Arcade. Tickets can be found at 
www.undertheradar.co.nz.
(FINN MCLENNAN-ELLIOTT)