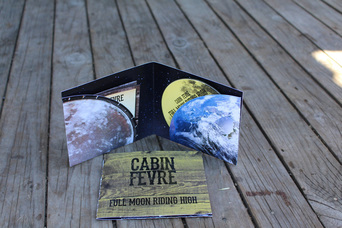 I first listened to 
Full Moon Riding High
 minutes after a particularly weird night watching the US election. I needed something that complemented whiskey and forget-your-worries dancing – and this album sure does that.
There is something fitting about a live album recorded under a full moon in these strange times. 
With quite a few rousing and upbeat numbers,
Full Moon Riding High 
has the sort of carefree spirit of fun that can lift anyone out of a downbeat mood. Maybe even in a thigh-slapping sort of way. 
Recorded live by Peter Charlton-Jones at Te Rangi Studio and mastered by Scotty Smith, the album brings back 
"the good old days
." 
The record is endowed
 with some great traditional folk harmonies
 finely balanced by a combination of mandolin and fiddle (Roddy Branagan), banjo (Setha Davenport), guitar (Katie Charlton-Jones) and double bass (Marty Forrer).
The band is obviously good at creating a fun atmosphere, so recording live was an inspired choice. The harmonies, which switch between male and female lead, are sometimes lush, sometimes gritty, sometimes rousing – but always catchy.
The band has a distinct flavour and they're adept at making songs their own; I didn't even recognise 'There She Goes' as a Bob Marley song until it was a chorus in.
 The traditionals – 'Gospel Plow', 'The Cuckoo', 'CC Rider' and 'Worried Man' – are well chosen as danceable numbers.  
The original songs (mostly written by mandolin and fiddle player Roddy Branagan) slide in well with the traditional songs, with the standouts being 'Digging You' and 'Potato Song'. There is a touch of New Zealand with 'Kia Kaha', written by Roddy Branagan (mandolin, fiddle, vocals), which also features some particularly timely lyrics.
Last song 'Potato Song' has a lovely catchy chorus with echoed harmonies singing "like a river run dry". Guaranteed to stick in the brain.
(FRASER BROWNE)