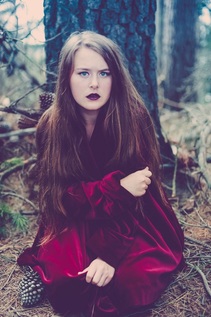 Lyttleton has done it again. Yet again, we get to offer you a stunning album from a Lyttleton-ite. They're growing songwriters on trees down there and 
Candice Milner
 is the latest to pop into our sights. At only 17, she's just released her debut album, 
Evergreen
, and is embarking on a national tour to celebrate it. We are lucky enough to get an Auckland stop, at The Wine Cellar, which will be her first ever show in the North Island.
Candice has been working on this first album for the last 18 months with maestro Ben Edwards at the Sitting Room, after placing first on theaudience.co.nz's Wildcard Chart in June 2015 with single 'Run For It'. Everyone raves about Ben Edwards and his work, and Candice is no exception, "First we demoed each song, just how I play it, which really showed that he cared about how I played the song. We kept that exactly the same, and then we just worked from there on where to take the song and what direction it would go." She'd never performed with a band before so each step of the way Ben and her assessed what musicians they wanted to add to a song, and how to remain true to that 'demo'.
Ben Edwards fell into something of a producer role, and helped Candice to really craft this album into the melting pot of folk, country and pop that it became. "I recorded with a few different producers, and after playing with a few different people, and working out what I wanted to do, I realized I really liked the folk–country scene. And while I don't think my music is country, I think even having that inspiration behind me really helped to make it raw, acoustic, folky. Working with Ben really helped to bring that out.
They've been working on the album for the last eighteen months. "It was a long process, I think because I found in the past that I wasn't always happy with how things were produced, I'm really picky now. I'll sit and listen to each part, I get so nit-picky," She laughs and quips, "I don't know if that had anything to do with how long it took."
Coming out of Lyttleton influenced by the folk and country music community is not a surprise, given the names that have come from The Sitting Room and around the region in recent years. Candice admits that only in the last year or so has she found herself listening to and inspired by those onLyttleton Records. "I'm only recently out of childhood, when I was a kid I obviously loved people like Avril Lavigne. But, this folk world is what I'm loving now."
There's more to Lyttleton than just the musicians, "The community, the non-music community, I'm not quite sure how to describe it… We've got farms just up the hill, we have the farmers market, exhibitions, The Rose Show, everyone's so proud of Lyttleton."
Candice made the big decision at the end of year twelve to leave school, "I left school last year – I was almost seventeen. I left two weeks before exams in year 12. I found myself becoming more and more dedicated to the work I was doing. I was working in hospitality and all of my savings were going toward music, and so I was trying to focus more on that. I was taking so much time off school, for work to pay for music, to play more shows, to do interviews." She's aware that she may need a backup plan, and is often asked if she has one. "I guess I do, but I'm not focused on it." Music is the priority.
"I've never toured before, so I wasn't completely sure of what people do," Her first thought was how to get a drummer up the country, but has since decided to stick to what's easy for this tour. She's bringing with her guitarist, Finn Chirnside, and meeting fiddle player Nick Dow at the Wine Cellar, while her other shows in the country will be done with varying different incarnations of a band. She's performed in the wider Canterbury region but has never been our way before, so do get out on Wednesday and see Candice perform her stunning new album!
​
Catch Candice Milner (and friends) performing at The Wine Cellar, Wednesday 16th November, celebrating her debut album, Evergreen. Tickets can be found here.  
(FINN MCLENNAN-ELLIOTT)