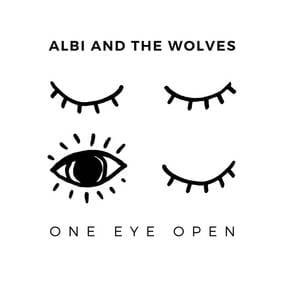 Albi and the Wolves
have carved out quite a following in Auckland, and throughout New Zealand, with their brand of very fun, energetic and highly entertaining live shows. 
Made up of Chris "Albi" Dent (guitar), the Wolves include Pascal Roggen (violin) and Micheal Young (double bass).  The band now work as a three-piece, though the album also has guest banjo from Bryan Christiansen and Nat Torkington. 
Half of me wishes
One Eye Open
had started with the exceptional song (and single) 'One Eye Open,' which has some neat changes of pace and sums up the band's personality and virtuosity. With a well-crafted violin solo, high-energy banjo, and some stunning harmonies, it is a stand out in a strong first album and is the sort of thing that radio should be playing. And it's uniquely "Wolves". 
The album often enters into the bombastic big folk sound that they're known for, with moments where Chris's sweet voice breaking through in quieter moments, and beautiful violin from Pascal supported well with Micheal Young's double bass. Exceptional harmonies are also a strong point, with 'Still Friends' and 'Try' showcasing this well. 
The slower ballads in the middle of the album change the pace nicely, such as 'Keep You Warm,' where Pascal's violin solos and Chris Dent's voice and skill as a lyricist and songwriter is evident. 
'Lonely Boy' is an inspired choice as a cover, and the band really make it into their own song, with the vocals firm and rugged over the main riff which is played with a banjo. The end has a long hoe-down with banjo and violin trading frenetic riffs, and which would even get a reluctant dancer moving. 
In these politically charged times, it's good to see a few songs, such as 'Giants In The Sky,' 'Free Speech' and 'Working Hard,' with lyrics that touch on this. There are also many other good lyrical moments on the album, for example in the sardonic 'Try,' where the protagonist is finding it increasingly hard to break up with his lover: "And I've tried – somehow I wake up lying by your side". 
It's always something of a feat to translate live energy into a studio recording. Engineered by Micheal Young and produced by Young in collaboration with the band,
One Eye Open
generally does a good job of this – though at a couple of points I wished there was percussion to lift the energy just a touch. In saying that, drums aren't missed in and of themselves, and the band arrangements keep the energy flowing well.
I would definitely suggest seeing this band live as they're seasoned performers and never fail to get a party going, whether they're playing in sleepy Auckland or a small country inn somewhere else. Their sit-down moments are also a treat, as the arrangement of their vocal harmonies is often special. And with often hilarious banter, they truly are a good time. 
(FRASER BROWNE)