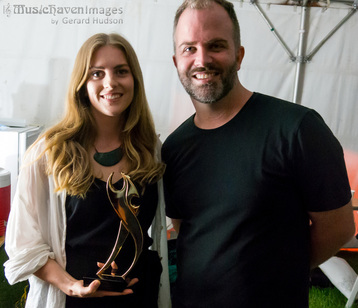 Winner of the Tui for Best Folk Album 2016, Holly Arrowsmith with Chief Executive of Recorded Music NZ Damian Vaughan at the Auckland Folk Festival 2016
At the Auckland Folk Festival, Holly Arrowsmith's '
For The Weary Traveler'
was announced as the winner of the Tui for
Best Folk Album 2016
. A sleepy Fraser Browne talked with a sleepy but happy Holly at midnight, on the long car ride home from the festival to her motel.
Congratulations on winning the folk award – it must be a big buzz. How do you feel after all the hard work has paid off with this?
Man, I don't feel like it's really sunk in yet. I think it will hit me more when I'm just at home by myself. But… so blown away. 
You're young, but you've obviously been around the scene for awhile. It probably feels like longer for you?
Yeah, I'm still beginning in a sense compared to a lot of other people. But yeah, it's very surreal. 
Your taste is obviously rooted in country and folk, and you were born in Santa Fe in the US.  Is that something that led you to the music you write?
Definitely. Yeah, listening to my dad's music was the foundations of my music tastes I think. 
Like Nitty Gritty Dirt Band, Neil Young, these country musicians and folk singers… I think there's something within me that's just drawn to anything Americana, anything with a bit of turquoise and arrowheads.
My family owned an antique store in Santa Fe called Arrowsmith's Antiques of the Old West, which was full of Indian and cowboy antiques and some of my earliest memories are in that shop. They had visitors come in like Johnny Cash, June Carter…
 
Some big names.
Yeah. We're actually going back to America this year and going to Santa Fe for a week. I'm really looking forward to connecting with my heritage a bit more and just really going 'home' – to a place I barely remember, yet somewhere I feel really connected to.
 
For the Weary Traveller almost feels like it's from an old soul. You've got this theme of wandering, and searching. It's an interesting theme for someone who's in no way old – how did that come about?
Well, I don't really know. In a lot of ways, I don't feel like I'm 22. I feel like I'm older. I think I am a bit of an old soul. Maybe it's my travelling ancestors – my great grandfather was a magician with a flying circus!
 
It's hard not to notice age because society tends to focus on it. But you can have a wide experience without age stacking up…
Yeah, age is such a fickle thing. Once you leave school it feels like everyone levels out despite age. I was married at 20, which is very young in our society's standards.
 
But I felt like I was ready, and that I'd met the right person. We love it!
 
You're married to Michael Gilling, who often travels around with you on tour. Music's often a lonely road; it must be a great support that he's able to share the journey.
Yeah, before I met Michael I was already determined to make music my vocation. When I was 18 I thought "I'm going to quit my job, I'm going to do music, but what next? I need to buy a vehicle, I need to buy some gear, and I need to go on tour".
 
There's nothing wrong with that, journeying as a lone songwriter… but for me I just wanted someone to share the experience with.
 
So when I met Mike we quickly realised that this was something we wanted to do together, share the joy of music and the joy of meeting new people and travelling.
 
Travelling on the road a lot is great with someone who can ground you, and inspire you – like a husband or wife.
Yep, he does, he's great. One good example was the Rodriguez show, the Sugar Man, when we opened for him.
 
We played at the Wellington Opera House, which was massive, [Mike and I] played together. After the set we went backstage, and you walk through these winding concrete corridors, and it's all very cold and impersonal backstage, whereas onstage it's this amazing buzz. All these people, and this incredible feeling and then as soon as it's over, the feeling's over.
 
I remember going back to our dressing room, which was this white brick room, with hardly any light and just thinking… I had a bit of an emotional come down.  It's this intense high, and then it hits home and it's just normal again.
 
I remember thinking back to times before we met where I'd done gigs and I'd come home and had been on this huge emotional high and you're all by yourself, and it's kind of awful sometimes. And I remember thinking "man, it's nice to feel very normal with someone else".
 
It's a funny term, but could I call him a muse as well?
Yeah, I've written songs that were inspired by him.  'Love Will Be a River' off my album and also 'Canyons'.
 
When I wrote 'Love Will Be a River' I hadn't really written love songs before, and I didn't want to make it clichéd so I started with what love isn't. That's kind of how the verse goes.
 
Lyrics are obviously important to you. What are you most proud of in the album, that you think "I can't believe I wrote that"?
My passion is lyrics. That's the thing that I really love the most.
 
So they come first as well?
Yeah, often. When I wrote 'Lady of the Valley', I remember writing the line "Gold rolling through her cold veins to the river down below / When I see her I know that I am home." I remember being particularly stoked with that lyric.
 
Beautiful. That is a great line. Your lyrics are so focused on nature: rivers and oceans and valleys. At the Folk Festival we were talking about areas and how songs can have a particular spirit of a place. Do you find that having left the South Island and gone back, that you have brought new songs with you on the journey home?
Yes. The songs I wrote when I lived in Auckland were different.
 
One of my new songs called 'Farewell' is about leaving home and moving to the city. The first half I wrote as we were driving away from Queenstown for the first time to move up to Auckland.
 
"Farewell, I'll miss you something fierce / The place I grew, the love I knew for all my dawning years" as we were literally driving out through the Kawarau Gorge.
 
The chorus says "I'm going to a forest where the river's black with sin / Iron trees don't bend in the breeze". I was trying to make the city into something natural.
 
The songs I wrote in Auckland, you can definitely tell that I'm writing them in a city but that I'm still longing for home.
 
Is another album blowin' in the wind?
Yes. Recording For the Weary Traveler it took sixteenth months and [in that time] I couldn't write a thing. I was so caught up in trying to pull it together that my creative flow was broken. It was all going into the album, which was necessary but frustrating.
 
The week after I released it, I wrote two new songs. Since then I've written about seven new songs.
 
I'm waiting till we get back from the States because I feel like I'm going to write some good stuff over there inspired by New Mexico and various travels. I feel like that trip will be a big part of the album.
 
Thanks Holly, and well done. Any final words?
I'd love to give a shout out to Steve Roberts who engineered and produced the album.