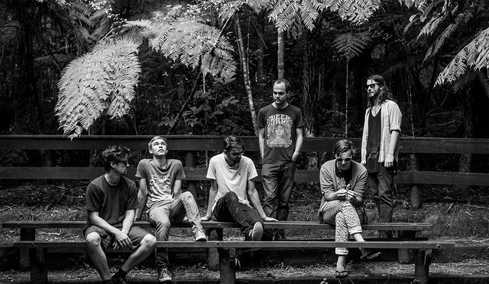 ​From the outset, it's worth saying that
Mice on Stilts
album may have folk elements, but it definitely isn't a "folk" album – it fits more into a progressive or alternative category – or dare I use a cliché, unique. The fact that it's being reviewed here is down a lot to the fact that it would be stupid not to review one of the best albums of the year, from one of NZ's best (and by implication, most underrated) live bands.  
With six main members, there's a veritable arsenal of instruments at their disposal: piano, trumpet (both Guy Harrison), violins, saxophone (Charlie Isdale), drums (Rob Sanders), guitars, vocals (Ben Morley), and bass, vocal FX (Tim Burrows, on the record, though he has now departed the band). The record even utilises a haunting mini choir to good effect.  
And haunting is where Mice on Stilts often goes, delving deep into darker lyrics and themes, and often sounding like Tool, Morrisey / The Smiths and perhaps Pink Floyd, with a dash of Radiohead at times; if there was a band I was least likely to think of as "summery," this is it. The band excels in creating beautiful, eerie atmospheric soundscapes for Ben Morley's instantly recognisable voice to soar over, 'Yhwh' and 'Hope For A Mourning' being particularly haunting examples.  
Every band that dares use a minor chord and sings of longing and heartache without using the most obvious lyrics gets categorised as an iconic band like Radiohead or Tool. If we were going to dish out compliments, though, you could make worse comparisons than these. Mice On Stilts is a band that writes music with depth which has plenty of musically inventive hooks, but which doesn't necessarily feel the need to dive into the conventional.  
I think, for example, there are no other songs ever written with the title 'We saw his needs through the casket'.  
Beautiful opener 'Khandallah' starts with Radiohead-esque piano chords (think 'Pyramid Song'), before dropping into poetic brilliance: "Oh what a wonderful surrender where the ocean meets the sky…" And there are plenty of moments like this in an album with only eight tracks, but which spans almost an hour.  
Expertly mixed by Tim Burrows, the album is cohesive, and its more surprising elements (such as brass, strings and inventive synth) float over the top without feeling over-orchestrated. Even lines like "the good Lord has his hand on me now" (from 'Orca') with a building choir in the background doesn't feel overblown, reminding me of early Veils in sincerity and authenticity.  
Hope For A Mourning
is an impressive album that promises a good future for the band, especially if they look to play the long game and keep to this core sound.
(FRASER BROWNE)