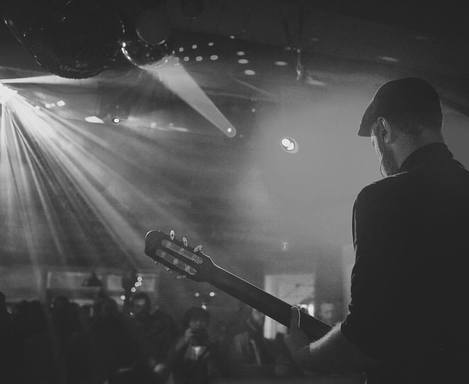 Graeme James' 'News From Nowhere' is a finalist for the Tui for the Best Folk Album 2016. We spoke with him about his touring lifestyle, busking and how the debut album has gone! 
The debut album of original songs from Graeme James has been a long time coming, "I've been a full time musician since 2012, I studied quite a while ago but I never completed that. So I got a bunch of random jobs and then started studying something else, but midway through that I realized that I should have just been doing music, so I gave that a go."
Graeme started off busking everywhere, playing covers gigs and traveling about, slowly gaining a reputation for himself. These days, he's playing everywhere, "The New Year has been really busy, six gigs in seven days. It's been keeping me busy." Fans have seen him slowly introduce his original songs into sets and have been ready to hear the new album, 'News From Nowhere'. "From a fan and even a new, first time listener, perspective, people are really loving it, and coming from a place of covers, it's been really encouraging. The whole covers thing has been a bit like building a house with a master builder and now I'm off trying to build my own one. I think it's working better than trying to go out and do it myself from scratch!"
Busking isn't on the cards as much these days, due to the demanding and more organized lifestyle of a touring musician, "Unfortunately, busking is probably only about 1% of what I do now, which is a shame, because I really love it. But it's just not as reliable, you can't really tour and busk, because a week of bad weather can go horrifically, so you end up having to be a bit more organized. But I do miss the spontaneity. But there are a lot of magical moments that happen when you busk, because no one ever plans to come watch you, so it's totally unplanned and unpredictable. Some of the biggest crowds I've had have been busking."
While Graeme may not be able to busk, he's been doing some amazing tours and still seems to be planning wacky, almost seemingly crazy and impromptu ideas. He just released an innovative and awesome video for the title track of the album. He just recently completed a 'Summer Island' Tour, including Stewart Isl, Great Barrier Isl, Tasmania, White Isl and the big one, Australia Island. 
There is a very Celtic sound to the album, alongside all sorts of influences. "The kind of Celtic influences are very real, we had a family band when I was younger, we basically played Irish, Scottish, Celtic music. We played a bunch of gigs over a few years, and it was good fun. That kind of Celtic thing grabbed me when I was a lot younger, I really did think it was the business. I don't actively go after that sound but it bleeds out in a very organic kind of way. And most of my bass lines are straight out of EDM songs, the album is a mash of things, very influenced by a lot of music," This is very obvious as you listen to 'News From Nowhere'. Graeme jokes, "I'm a bit late to the whole Riverdance revival but this style of fiddle that I play really lends itself to that."
"I first picked up the guitar in the early 2000s, so there are some songs on there that are 14 years old, but most of them are from when I started playing full time. The reason this sound is eclectic, is because it's representative of 4 years of life."
'News From Nowhere' is a remarkable debut album, from an artist who has cemented themselves as someone to watch. Catch Graeme James performing at the Auckland Folk Festival during the Tui Performers Concert at 5.30pm on Sunday 29th January. 
(FINN MCLENNAN-ELLIOTT)