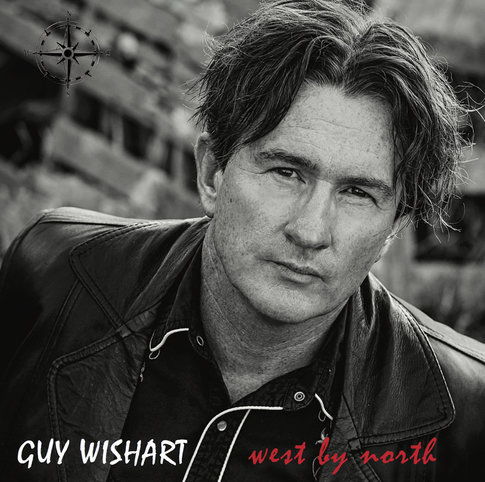 Guy Wishart's 'West By North' is a finalist for the Tui for the Best Folk Album 2016. We spoke with him about the process and where he has been for the last couple of decades!
Guy Wishart is a name that might not be familiar these days, after a long hiatus from the West Auckland based musician. However he is a winner of the Silver Scroll in 1990, and has returned with a solo album that launches him back onto the scene, as if he was never gone.
"When I got to the 2000s, I formed a band called Salon Recliner, and had a songwriting thing going with Belinda Bradley. She lived just down the road from us, and had a recording set up at their place, so we spent a good five or six years writing, recording and making two albums. It was quite different to the folk thing, much more electric and going in a different direction and it was fun to do so. Bands are democracies, which I wasn't used to! I quickly learnt that if I wrote the song it didn't necessarily mean I dictated how it would be played. We're still planning to release a new album this year, we're just working on the videos for them."
"My family went overseas for four years, to India and Thailand. I rejoined Salon Recliner again once I returned, and so most of the 2000s have really been with that band. But once I got back I realized I had a bunch of songs that didn't fit with their sound. So I thought I'll do my own album then. In 2015 a friend of mine, Derek Lind, went in and recorded an album at Roundhead, and it was all done live, with just a four or five piece. I played on this, and it turned out amazingly, and only took two days to record, so I thought this seemed like the way of doing it. If I'd had to do it tracking it and working from home, I was just concerned it would never get finished."
"We had the same engineer from Roundhead, Jordan Stone, and he recorded the whole band live, something I couldn't have done myself. The album sounds like a live recording, and I did enjoy that way of doing it. We did a few takes for each song," By the time the band had got used to the process of recording live together they cruised through the songs. Those rehearsals in lounges for months beforehand certainly helped the process along, Guy informs me.
He lives in Kumeu on a lifestyle block, with his wife and daughter – who loves to ride. Guy teaches science at Glenfield College, and the teacher by day, musician by night, lifestyle is one he's always known. Necessity and choice have led to this, and he loves the opportunity to mentor and experience young songwriters as they are starting off. He remembers mentoring and working with Hollie Fullbrook (Tiny Ruins) back when he worked at Avondale College. "These are the type of opportunities you wouldn't get unless you were a teacher."
Guy also runs monthly shows out of the Kumeu Arts Centre, and is hosting Mel Parsons and Donna Dean over the next couple of months. You can find all the details about these in our 'What's On' section and on Eventfinda!
"I was interested to see how these new songs would go, and it was a risk to do it this way. I need to continue writing now, I've started again so I should keep going. I can write better songs again, so there'll be another one to come."
You can see Guy Wishart and band perform at the Auckland Folk Festival at 5.30pm in the Main Marquee as part of the Tui Finalist Concert. Check out 'West by North', a finalist for the Best Folk Album 2016!
(FINN MCLENNAN-ELLIOTT)