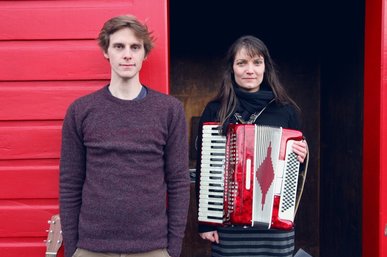 We are always up for something off Home Alone records, or anything that comes to us by way of French for Rabbits, so we jumped at the chance to present the first single and video off the debut album from Grawlixes! 

Grawlixes are a Wellington-by-way-of-Dunedin indie-folk band intent on inserting themselves into your brain with their intelligent, infectious songs about relationships and not being invited to parties. Continuing the great lineage of artists who bring sadness to their sprightly melodies, Grawlixes's music often deals in the melancholy with self-deprecating honesty and beautiful boy-girl harmonies, sung by co-founders Robin Cederman and Penelope Esplin. A recent signee to Home Alone records, following an extensive European tour supporting now label-mates French for Rabbits, Grawlixes will be releasing their debut album 'Set Free' in July.
"Set Free is about the moment after a relationship's end where you start to develop a truthful perspective about what has happened, what you have learnt and how life – wonderfully – will go on." 
Let us know what you think! And! You can catch Grawlixes live in Auckland next Wednesday 8th February at the Wine Cellar with Paul Cathro and Lake South! 
P.S. We don't often premiere videos or music here at Second Hand News, so when we do we're very excited! (We're always happy to premiere stuff, just ask us!)