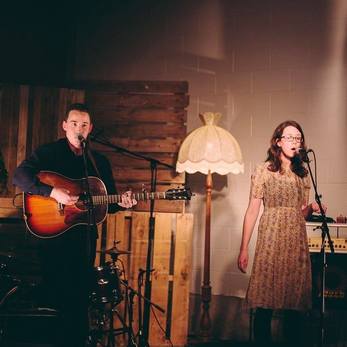 Great North performing at Wintergreen
I sent Hayden Donnell, songwriter, frontman, guitarist for
Great North
some quick questions ahead of the bands
final show in New Zealand
before their one way trip to Europe. They have promised they'll come back, and we sure hope they do, but for now, it's an exciting new step for the band who've won two Tui's for Best Folk Album, for their last two albums, 
Halves
and 
Up in Smoke. 
You and Rachel (Donnell) did a little trip of Europe a couple of years ago, and played a few shows, is this the next step, and something you've been planning since then? 
Definitely. It's sort of something we've always wanted to do. For me in particular, being able to give 100% of my life over to making music and touring has been a long-kept dream. But stuff kept getting in the way. Work. Family. Inexperience. Administrative incompetence. The abject poverty we'd experience were we to solely focus on music. This felt like it could be our last chance to really put all those things aside and live the struggling musicians' life. Mainly because we still don't have children trying to destroy our few remaining slivers of freedom and independence. Also because we have savings.
Great North's lineup has changed a lot over the last few years, are you looking forward to a tour focusing on the duo? Do you still consider Great North to be a band or has it become a duo with friends? 
There was a point where it just became easier to think of Great North as being just us two, mainly for administrative reasons. Our band members were crawling with spouses and babies and it just seemed too much for me to demand an undying commitment to making my music. But I still like playing in a band. When I make the albums, it's with a band. 
Having said that, I'm excited to develop a duo show over there and try to make it really compelling. It's a challenge not having beautiful musical crutches to fall back on, and it's certain to stretch our performing abilities. Either we'll get good or we'll be laughed out of Europe and told to never come back.
You do plan to come home to NZ eventually? 
We definitely plan to come back sometime. For one thing my visa only lasts till May 2018. But it's a one-way ticket so there's no definite return date. We'll see whether we become supremely rich and famous over there before making any decision.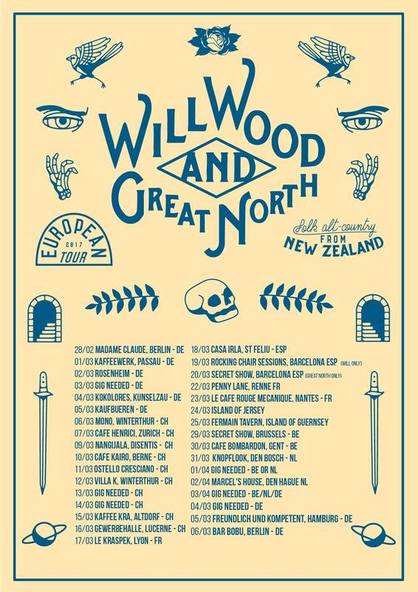 Will we see a new album from you while you're away? 
Quite possibly. We have one mixed and mastered. It's just a matter of getting the art in place and sorting out a release plan and schedule. One option is casting it out in the internet while we're still overseas and then returning home to tour. We'll see whether that works out.
You've told me yourself you don't feel these new songs are very folk, where is your sound moving at the moment, why do you think this shift is happening? 
Blame it on our pedal steel player Matt Hutching. He gave me a lot of dad rock to listen to before I made this latest album and there's lots of strains of that in the songs. Jackson Browne. John Hiatt. Tom Petty. Having said that, there's still a lot of elements of folk songwriting in there. You just have to look harder for them. Also, the lyrics are still rooted in the folk tradition. They're about the usual stuff: regret. Loss. Nostalgia. A generalised longing to retrieve an irretrievable past.
Finally, the big tour is going to be with Will Wood (at least for a large part of it), have you guys done much together in the past? It must have been great to have someone over there to help you out! 
I love Will. We toured with him when he was in Luckless a million years ago. My most recent show with him was in Berlin in June. We ended up eating haloumi kebabs at 3am. But he still got up early in the morning to take me to the airport. That shows you a few things: he's generous to the point of being quite stupid, he makes poor lifestyle choices, and he's willing to suffer greatly for his art. All of those qualities played a part in him choosing to book this tour with us. We genuinely couldn't have done it without him and his pre-existing knowledge of every dive bar and small venue in Europe.
Go on, catch Great North for the last time in NZ (for a wee while), this Saturday 19th February at the Wine Cellar with Reb Fountain!
(FINN MCLENNAN-ELLIOTT)